Sequel Bits: 'Magic Mike XXL', 'Star Trek 3', 'Pitch Perfect 2', 'V/H/S: Viral', 'Insidious Chapter 3'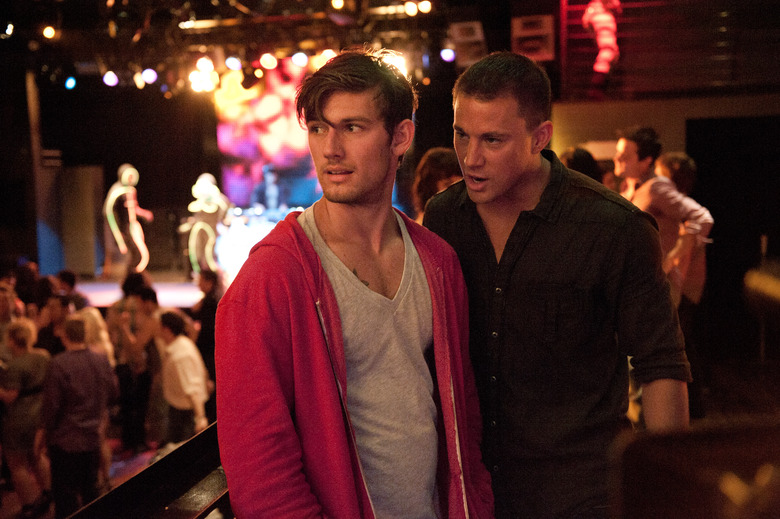 Amber Heard and Jada Pinkett-Smith will also star in Magic Mike XXL, despite being rather ill-equipped to play male strippers. Plus, see a new photo from behind the scenes of Magic Mike XXL. And also after the jump:
Star Trek 3 is reportedly shooting in mid-February
... and Simon Pegg says J.J. Abrams is "all over it"
Expendables 3 downloaders are being told to pay up
Justin Long wants more Galaxy Quest and Zack & Miri
Elizabeth Banks drops more hints about Pitch Perfect 2
Amityville: The Awakening loses its release date
Get a load of the new poster for V/H/S: Viral
The Insidious Chapter 3 poster involves a lot of reading
Meanwhile, things are heating up behind the scenes of Magic Mike XXL. DP / editor / camera operator Steven Soderbergh shared the pic below on Twitter.
Zachary Quinto recently told press that Star Trek 3 would begin shooting in the next six months, and now an even more specific report claims production is on track to start mid-February 2015 for release in summer 2016. Roberto Orci is expected to direct but hasn't officially been confirmed. [Trek Movie]
It's a given that J.J. Abrams won't be back to direct Star Trek 3, but star Simon Pegg claims his influence will still be felt.
I was worried [about Abrams moving from Star Trek to Star Wars] at first. I was in a movie theater and I got an Email that he was doing it and I immediately called him and said, 'You're not doing Star Wars now? You're going to abandon us like the older slightly less-cool sibling?' and he was like, 'Of course not.' That was just sort of the knee-jerk reaction, because we all felt like, 'Oh, no! Daddy!' but J.J.'s incapable of doing that. He will be very present even if he's not directing 'Star Trek,' his voice and his stamp will be all over it.
Producers believe piracy put a dent in the revenues for Expendables 3, and now they're looking for payback. Demand letters have gone out on behalf of Millennium Films, warning downloaders they "may be held liable for monetary damages, including court costs and/or attorney fees" if they don't settle online by October 5. [THR]
If Justin Long has his way, Tusk won't be the last film he does with Kevin Smith. The actor hinted at the possibility of a Zack and Miri Make a Porno spinoff during a Reddit Q&A. "Kevin and I talk about it every once in a while. We both had so much fun with that movie," he teased.
And while he's at hit, he'd like to do another Galaxy Quest, too. "I'd love to see what Brandon Wheeger is up to 15 years later. There's been talk about doing — not sure how real it is — but yes, I'd do it in a heartbeat," he wrote. "In the meantime, never give up, never surrender." [Reddit]
Pitch Perfect 2 will see the Bellas getting ready to part ways, reveals director Elizabeth Banks. "[They're] figuring out how to sort of leave the nest and the comfort of each other's friendship and figure out what they're going to do with the rest of their lives," she said. In the meantime, she confirms, they — and we — will get to enjoy some a cappella performances from the likes of Pentatonix, the Filharmonic, and Penn Masala. [Yahoo]
Our next trip to 112 Ocean Avenue may come a bit later than expected. Dimension Films has quietly removed Amityville: The Awakening from the calendar, along with James Wan-produced Demonic. Amityville was originally slated to open January 2, 2015, while Demonic would have landed December 12, 2014. No new dates have been announced, and no reasons have been given. [Coming Soon]
Got any heating and air conditioning vents in your room? You won't look at them quite the same way again after checking out — or reading, really — the new Insidious Chapter 3 poster. It's got the longest tagline ever, but it sure it effective in its creepiness.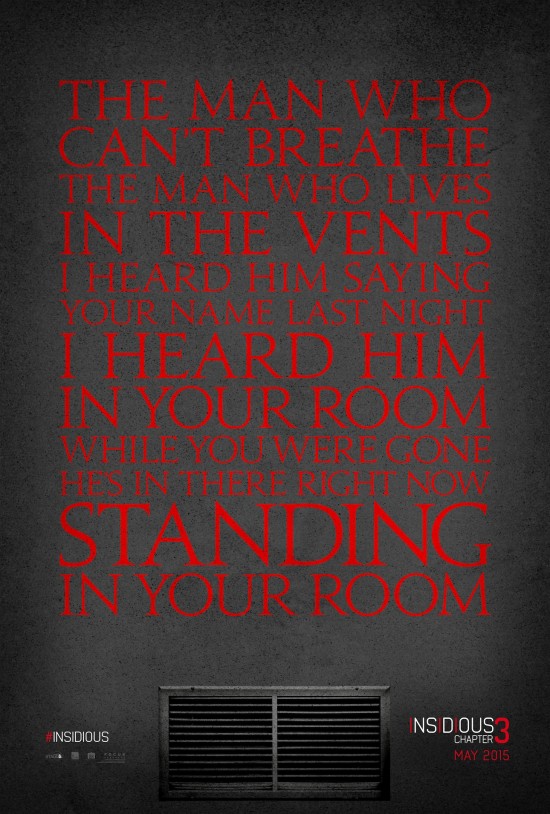 The new V/H/S: Viral poster could double as a clothing ad. That t-shirt, or whatever it is, looks like something a stylish goth kid might wear, not a horrifying vision to send a chill down the spine. Oh well, at least the trailer looks pretty promising. [Shock Till You Drop]