'Big Eyes' Trailer: Tim Burton Comes Back Down To Earth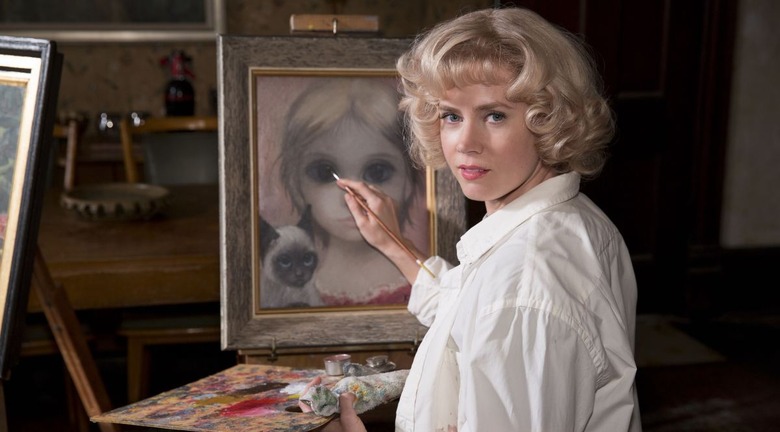 There are certain things we've come to expect from a Tim Burton movie. Fantastical settings with whimsical rules. Dead people and undead creatures. Johnny Depp in heavy white makeup. But his latest movie Big Eyes has none of that, and looks all the more intriguing for it.
The historical drama stars Amy Adams and Christoph Waltz as real-life artist Margaret and Walter Keane, whose paintings of doe-eyed children became a phenomenon in the '50s and '60s. Publicly, he took all the credit, but privately, she made all the art. The first Big Eyes trailer has just hit the web, and you can watch it after the jump.
It honestly wouldn't have been all that surprising if it turned out Burton was no longer capable of making a movie about ordinary people, but the Big Eyes trailer looks promising. He touches upon some big real-world themes here, including the commercialization of art and the changing role of women in society.
He's helped by what looks like another fine performance from Adams, who excels at playing underestimated women. And Waltz makes for an enjoyably charismatic antagonist, as usual.
Big Eyes opens December 25, 2014. Krysten Ritter, Jason Schwartzman, Danny Huston, and Terence Stamp also star.
Directed and produced by Tim Burton, BIG EYES is based on the true story of Walter Keane (Christoph Waltz), who was one of the most successful painters of the 1950s and early 1960s. The artist earned staggering notoriety by revolutionizing the commercialization and accessibility of popular art with his enigmatic paintings of waifs with big eyes. The truth would eventually be discovered though: Keane's art was actually not created by him at all, but by his wife, Margaret (Amy Adams). The Keanes, it seemed, had been living a lie that had grown to gigantic proportions. BIG EYES centers on Margaret's awakening as an artist, the phenomenal success of her paintings, and her tumultuous relationship with her husband, who was catapulted to international fame while taking credit for her work.