First Look: Sony Animation's Computer Animated 'Popeye' Test Footage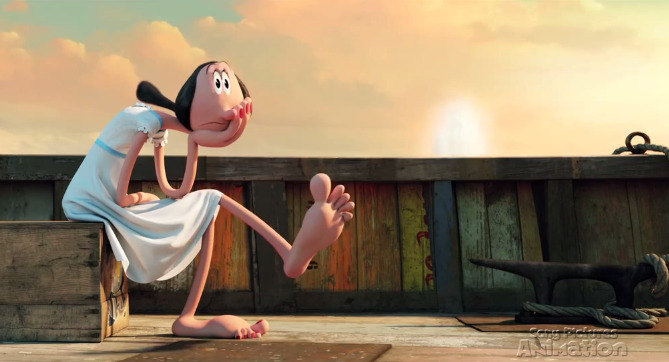 Genndy Tartakovsky has been working on bringing the world's most famous spinach enthusiast to the big screen
, and today he finally revealed a little peek in the form of some Popeye animation test footage.
As he stresses, "it's not a clip, it's not a trailer, it's nothing from the actual movie, the voices are all temp." But he describes it as "just something that kind of represents what we want to do," so it still offers a pretty great idea of what he has in store for us. Watch the Popeye test footage after the jump.
Tartakovsky introduces the proof-of-concept by explaining why he was drawn to Popeye. Or rather, why he was always fated to make Popeye.
From a young child, I was really destined to make one movie, and that movie was Popeye. Even so much, that when I first started animation, my very first teacher was a 90-year-old Popeye animator from the Fleischer studios, Gordon Sheehan. So I feel like it's destiny that's brought me here to Sony Pictures Animation to make Popeye an animated feature.
On a more practical, less metaphysical level, he speaks to the challenges of updating Popeye, who's been around since 1929, for the modern day.
Popeye more than anything else really embodies the physical humor, and the whole reason I do animation is to laugh at movement. [...] We've been working on Popeye for a little while now and we wanted to really explore how Popeye would translate from the old '30s cartoons and '40s cartoons to today. To contemporize him without losing the heart and sincerity of what Popeye really is, and what he meant to me as a kid and as an adult.
Though the the script is still being written, Tartakovsky intends for Popeye to be an origin story, chock full of appearances from classic characters like Bluto, the Sea Hag, Wimpy, Olive Oyl, Popeye's dad, and of course, Eugene the Jeep. 
According to the 
, Tartakovsky's Popeye hasn't officially been greenlit yet, but this footage has us really hoping they'll decide in his favor soon. "I'm kind of hoping that the reaction from animation fans will be so loud & so strong that Sony will be eager to put Popeye into production," Tartakovsky admitted to the site.