Rian Johnson Talks With Terry Gilliam About 'Star Wars Episode VIII' [Updated With More]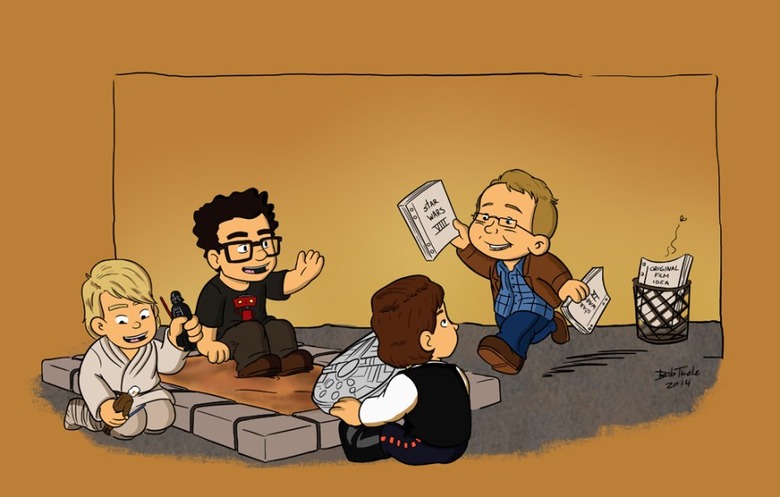 Update from Editor Peter Sciretta: The first part of the podcast was published yesterday, which is what we originally reported on. The second part of the conversation is now online, and I have updated the bottom of this story with additional information including Episode VIII shooting schedule, the process of writing the script and shooting location. The original post from September 18th 2014 follows, followed by an BOLDED marked update with the additional information.
Rian Johnson talked a bit about the creative freedom he has been given working on Star Wars Episode VIII (and IX?) while talking to fellow filmmaker Terry Gilliam on the TalkHouse podcast. Find out what Johnson said about writing the next installment of the Star Wars franchise, what it's like to be working in someone else's world, the obligation to bring Yoda and puppets back to the series, and an idea to have Gilliam have a cameo which might reveal a possible character in the upcoming eighth film. All this and more can be read and heard in the Rian Johnson Terry Gilliam Star Wars discussion, after the jump.
The following exchange was found by our friends at The Playlist. Terry Gilliam first learns about Johnson's involvement in the future of Star Wars during the podcast when he asks if the filmmaker has a new project.
"Yeah, you know, I'm doing a new Star Wars movie, I'm doing the next Star Wars movie..."
"Wow!" Gilliam is taken aback.
"Yeah, yeah, it's crazy! I'm writing it and directing it — the next one after the one JJ is doing."
Gilliam asks "What does it feel like when you take over someone else's world?" Johnson gave the following response:
"Well, I'm just starting into it so... but so far it's been nothing but... honestly, it's the most fun I've ever had writing. It's just joyous. But also for me personally, I grew up, not just watching those movies but playing with those toys, so as a little kid the first movies I was making in my head were set in that world. So a big part of it is that sort of direct connection, its almost like an automatic jacking-in into childhood in a weird way I guess.... but I don't know, ask me again in a few years, we'll talk about it."
Gilliam asks if George Lucas is "looking over his shoulder," further reminding us that Gilliam doesn't follow much movie news. Johnson reminds the filmmaker that Lucas sold Lucasfilm and is no longer directly involved:
"He sold it to Disney, so he's kind of stepped back and Kathy Kennedy is running LucasFilm..."
Gilliam comments that she's "wonderful" and Rian Johnson agrees that "she's great." Gilliam then curiously asks "Do you feel a different responsibility because it is Star Wars, or are you free?" Johnson responds:
"You've got... its... Again, I'm figuring it out as I go. I'm dancing on top of the avalanche a little bit. So I'll have more perspective in a while but it's a balance of remembering what inspires you about it [the original films], but you can probably go to the wrong place by feeling too responsible to it. You have to keep your head loose enough to tell a story you actually care about."
Gilliam finds it interesting, the struggle between the responsibility of the franchise and the creative pull to make it your own.
"It's a balance, yeah. ... Well, that's been the great thing about it — Kathleen and her whole creative team have been so insistent on all the filmmakers they've been hiring for these new movies: 'We want you to take it and turn it into something that you really care about.' And we'll see how the process plays out, but so far, that's a big part of the reason I'm in it. Because that just seems like their attitude towards it. It's really exciting actually."
And Terry Gilliam has one request: "please bring Frank Oz back", to which Rian Johnson quickly responds:
"You kidding? How could you not. How could you not!"
Could this be a clue that Yoda might make future appearances in the franchise? He is a force ghost after all, right? Puppeteer / voice actor Frank Oz recently commented on rumors that he may reprise Yoda for a Star Wars spinoff film saying that he'd "absolutely" like to return, noting that "He's in my heart, I know Yoda very deeply" but adding that it all "depends on the story" and sadly admitting that he thinks "at this point you can't go back to the puppet."
Gilliam told a story about a conversation he had with George Lucas who insisted that the computer-generated Yoda was so much better than the puppet version: "I couldn't get through to him, he couldn't see how wrong he was!"
Rian Johnson then comes up with his own idea, a Terry Gilliam cameo. If that happened, Gilliam wouldn't be the first filmmaker to cameo in a Star Wars film: Joe Johnston played a trio of stormtroopers in A New Hope, Jedi director Richard Marquand appeared in Episode VI, Sofia Coppola appeared in The Phantom Menace, Lucas himself was in Revenge of the Sith, and Jon Favreau provided the voice of the Mandalorian Pre Vizsla in the Star Wars: The Clone Wars.
"We have to get you in there as a Hutt," jokes Johnson.
Interestingly Johnson's offhanded joke might be a clue — the Hutt family has been rumored to make an appearance in Star Wars Episode VII. We've seen a report about concept art featuring Princess Leia meeting with one of the Hutt family and the early set photos showed a structure modeled after Realph McQuarrie's early unused concept art for Jabba the Hutt's former headquarters. While it very well could be just a joke, it's interesting that Johnson picked the Hutts as the subject.
UPDATE: This is the new information from the second part of the podcast:
Gilliam asks Johnson when he is starting shooting, "do you have a plan yet?"
Yeah, oh, there's a plan. Theres a plan. (laughs) They have release dates for the next however many movies. Yeah, we start shooting, um, its not for a while. Not for another year, or so. But I need to write the script. I'm just starting right now writing so I have a feeling I'm going to need all that time probably.
Not sure if this podcast was recorded earlier, but it seems strange that Johnson would just be starting on the script now — unless hes spent the last couple months working on the outline for Episode 8 and 9, which is very possible.
Gilliam then asks if the movie will be shooting in London, and Johnson confirms they'll be shooting at Pinewood Studios. Not any news there.
You can listen to both parts of the exchange on The Talkhouse podcast, embedded below:
Part 1
Part 2
Header illustration by Bob Thiele