'V/H/S: Viral' Red-Band Trailer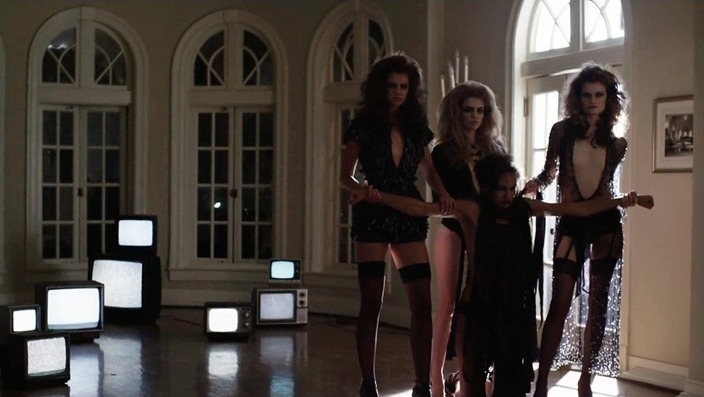 As a format, VHS is dead, but as a horror movie franchise, V/H/S is doing very well. For the third year in a row, we're getting one of these found-footage anthologies, with another new crop of filmmakers. And it looks every bit as nutty, creepy, gross, and bizarre as the earlier installments did. Check out the new V/H/S: Viral red-band (i.e., NSFW) trailer after the jump.
The V/H/S: Viral trailer is really just a barrage of strange images, but the official syonpsis offers a bit more in the way of plot detail.
A police chase after a deranged ice cream truck has captivated the attention of the greater Los Angeles area. Dozens of fame-obsessed teens flock to the streets with their video cameras and camera phones, hell-bent on capturing the next viral video. But there is something far more sinister occurring in the streets of L.A. than a simple police chase. A resounding effect is created onto all those obsessed with capturing salacious footage for no other purpose than to amuse or titillate. Soon the discovery becomes that they themselves are the stars of the next video, one where they face their own death.
The earlier V/H/S movies were kind of uneven and V/H/S: Viral probably will be, too. Most anthology movies are. But one really good segment (like V/H/S/2's Safe Haven, from Timo Tjahjanto and Gareth Huw Evans) can make the whole thing worth a look, and there are some pretty promising moments in the trailer.
V/H/S: Viral hits VOD October 23 before making its way to theaters November 21. The roster of directors this time includes Nacho Vigalondo (Timecrimes), Todd Lincoln (The Apparition), Gregg Bishop (Dance of the Dead), Justin Benson and Aaron Moorhead (Resolution), and Marcel Sarmiento (Deadgirl).