Adam McKay And Seth Rogen Team For New Comedy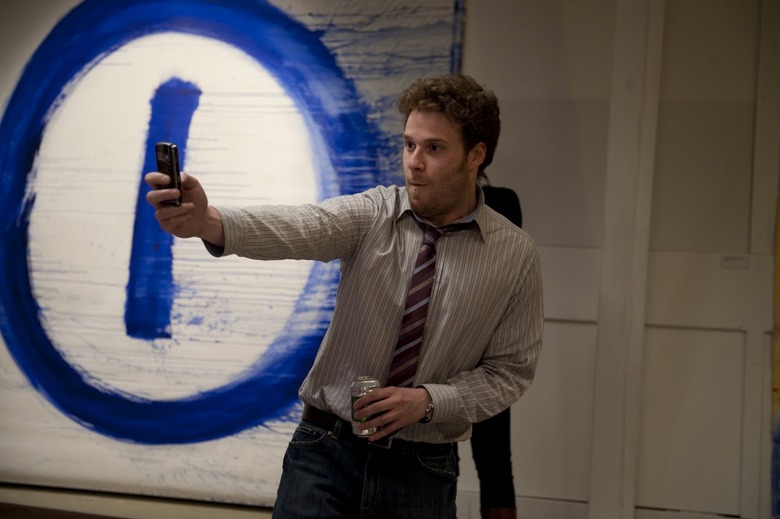 Some very funny people are about to join forces. Adam McKay is set to direct an untitled comedy written by Ben Schwartz for Will Ferrell's Gary Sanchez Productions, with Seth Rogen attached to star. Schwartz will also co-star. In addition to starring, Rogen will produce alongside his usual partner Evan Goldberg. Hit the jump for more details on the new Adam McKay Seth Rogen comedy.
THR reported the news. No details have been given about the plot of the new movie. But Rogen, Goldberg, and McKay being the hilarious people they are, they took advantage of the statement to show off their jokey energy."Every two thousand years the planets of our galaxy align in a perfect line that funnels the cosmic energies of the universe to flow into one perfect comedic collaboration. The time is now. This is that project. Nothing will ever be the same," said Rogen. Goldberg added, "McKay and Schwartz are reeeeeeal smart, well-endowed guys and we couldn't be more excited to be working with them."
McKay sounded equally excited — about working with Rogen and Goldberg, at least. "Evan and Seth have been doing amazing things and we're so excited to work with them," he said. "Ben, not so much. Most of my problems with him are personal ones, but I have to give it up ... he did come up with a great idea."
The director is coming off of last winter's Anchorman 2: The Legend Continues. Lately, he has been in the news for his work on the Ant-Man screenplay. He was also rumored for the Ant-Man helming gig for a while but Peyton Reed wound up taking that job.
Schwartz is best known for his TV work, specifically his recurring part as Jean-Ralphio Saperstein on NBC's Parks and Recreation and his series regular role on Showtime's House of Lies. But he's begun making inroads into movies as well. He's sold two pitches to Universal, No Heart's Club and Would You Rather, and is working on Paramount's Soapdish reboot.
As an actor, he'll be seen this weekend in the Shawn Levy-directed dramedy This Is Where I Leave You. His other upcoming appearances include the Philippe Petit movie The Walk and the North Korea-set comedy The Interview. The latter also stars Rogen and was directed by Rogen and Goldberg. Rogen is currently shooting Jonathan Levine's untitled Christmas movie in New York.