Aubrey Plaza Is Grumpy Cat, See The First Image From The Grumpy Cat Movie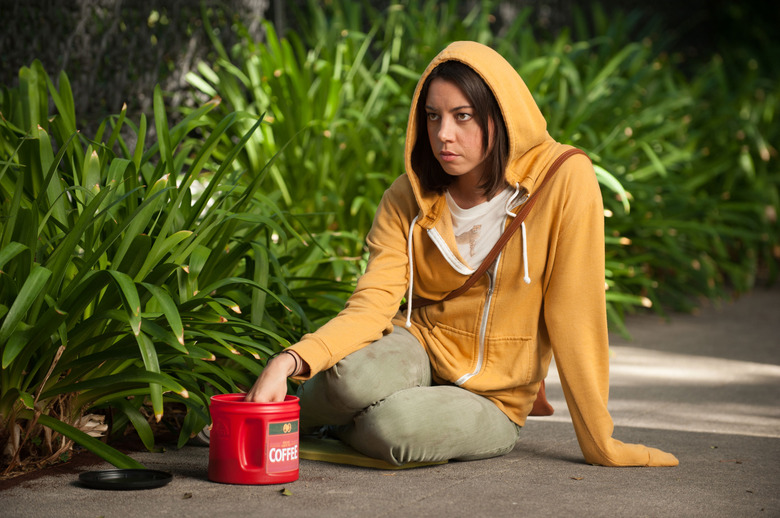 Whether or not the world really needs a Grumpy Cat movie is still open for debate. But if it must exist — and Lifetime has decided it must — it really is tough to think of anyone better than Aubrey Plaza to fill the lead role.
The Parks and Recreation star is set to voice the famous feline (real name Tardar Sauce) in Grumpy Cat's Worst Christmas Ever. Hit the jump for Aubrey Plaza Grumpy Cat casting news, plus a first look at the film.
reported the news. Jane Lynch was initially offered the role, which
notes comes with "a rather significant paycheck," and got into serious talks before ultimately turning it down.
Which may really be to Lifetime's benefit, because Plaza is the perfect Grumpy Cat. Like the Internet meme, she's bitterly misanthropic yet weirdly endearing. Her Parks and Recreation character April Ludgate is about as grumpy and cat-like as they come.
Since her small-screen breakout, Plaza has developed a solid indie film career. Her latest releases include Life After Beth and About Alex, and she has the Chris Evans romcom Playing It Cool and the Johnny Depp comedy Mortdecai coming up next.
A Lifetime movie about Grumpy Cat seems like a step down for her, frankly, but that "rather significant paycheck" probably looked pretty enticing. Or maybe she was just amused by the idea of her sarcastic voice being projected through an adorable cat.
In Grumpy Cat's Worst Christmas Ever, Tardar Sauce is a cat living in a pet shop at the mall. Her lonely existence has led to a sour outlook, but her life changes one day when 12-year-old Chrystal (Megan Charpentier, Mama) walks into the store.
The two become friends after Chrystal realizes she is the only person who can hear Tardar Sauce talk. Their ensuing adventure involves evil dognappers, life-and-death situations and, of course, the true meaning of Christmas.
The first photo, revealed by
last week, shows Charpentier cozying up to her fuzzy co-star.
Grumpy Cat's Worst Christmas Ever does not yet have an air date, but it seems like a safe bet it'll land sometime around the holidays.