See 'The Guest' Trailer From Jason Eisener; Score The Soundtrack For Free This Weekend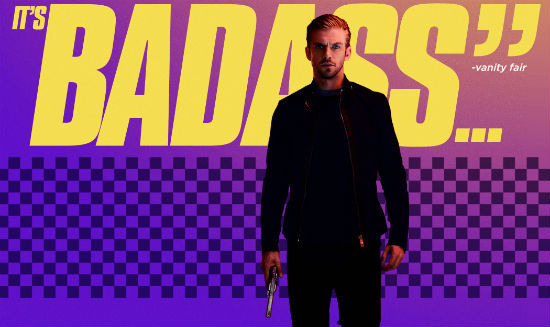 The Guest opened in a handful of theaters last weekend, and to celebrate that Hobo With a Shotgun director Jason Eisener cut together a really spectacular short trailer for the film. It's a tight blast of action, color and music that perfectly captures the vibe of the film, in which Dan Stevens plays a very capable and very violent man acting on grim intentions.
We didn't post that trailer last week (blame the distraction of Fantastic Fest and MondoCon) but want to show it to you now as the film heads into its second weekend. As a bonus, the film's producers are offering a little incentive to those who might go see the film this weekend: tweet a photo of your ticket stub, and they'll hook you up with a free download of the film's soundtrack. See the Jason Eisener The Guest trailer and get more details on the soundtrack offer below.
First up, the trailer from Jason Eisener.
Jason Eisener The Guest trailer
And then there's the free soundtrack offer. Here are the basic rules, as tweeted by producer Keith Calder: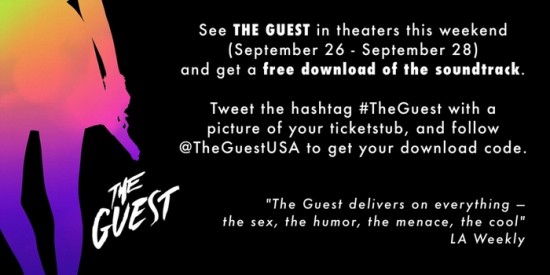 More info here. Here's the synopsis from Sundance:
Still struggling over the loss of their oldest son, Caleb, to the war in Afghanistan, the Peterson family finds some solace when an unexpected visitor knocks on its door. David, a steely eyed and charismatic soldier who was recently discharged, is welcomed into their home when he comes to fulfill a promise he made to his fallen comrade. Siblings Anna and Luke are at first reluctant to accept David's presence, but he soon wins them over by scoring kegs for Anna's friends and roughing up some bullies from Luke's school. Though he appears to be the perfect houseguest, a mysterious and sinister chain of events causes Anna to question whether David is actually whom he claims to be.