'Magic Mike XXL' Won't Feature Matthew McConaughey, Will Be Quite Different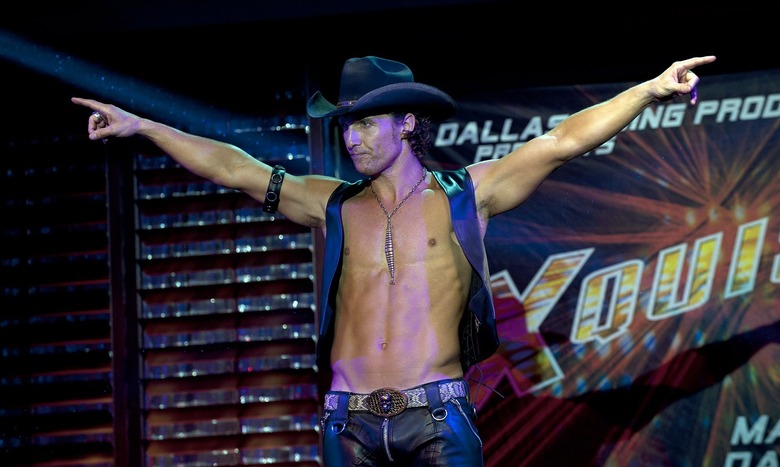 We were hopeful after Channing Tatum said the entire Magic Mike cast would return for Magic Mike XXL, but it's time for a little letdown. Matthew McConaughey is otherwise occupied, and isn't taking part in the sequel. Not merely for that reason, director Greg Jacobs, a long-time associate of Steven Soderbergh, says this sequel will be quite different, for reasons he only begins to explain.
Jacobs told The Playlist that McConaughey is out for the sequel. He also specified that while Soderbergh, who is shooting and editing the movie, revealed that production has begun, that's really just second unit. The primary shoot won't kick off for a couple more weeks.
When that happens, Channing Tatum, Matt Bomer, and Joe Manganiello will all return to their Magic Mike roles. Beyond that, however, Jacobs could or would not confirm further actors, though he said new people will definitely be joining.
In addition, Jacobs called this sequel, written by Reid Carolin and Tatum "very different," before elaborating slightly.
What am I allowed to say? ... It's road trip movie and put it this way, it's different enough that once you see it you'll understand why we made a sequel. No one will be accusing us of making the same movie twice.
In the meantime, you can see the fruits of Jacobs' efforts with Soderbergh in The Knick, for which Jacobs was exec producer and first AD, and Red Oaks, for which he acted as writer and exec producer.
mcconaughey magic mike xxl
He jokes about their long association:  
I wish I could get a good DP... I think it's going to be really fun. I mean, I'm on set every day when we're shooting [Steven's projects] as it is. We're constantly suggesting stuff to each other. It's really intimate and collaborative and it always has been. So I think it'll be a lot of fun. We already shot some second unit stuff which was a total blast. I think it's going to be a good time.
Magic Mike XXL opens on July 1, 2015.