See Awesome New Photos Of The 'Batman V Superman' Batmobile On The Streets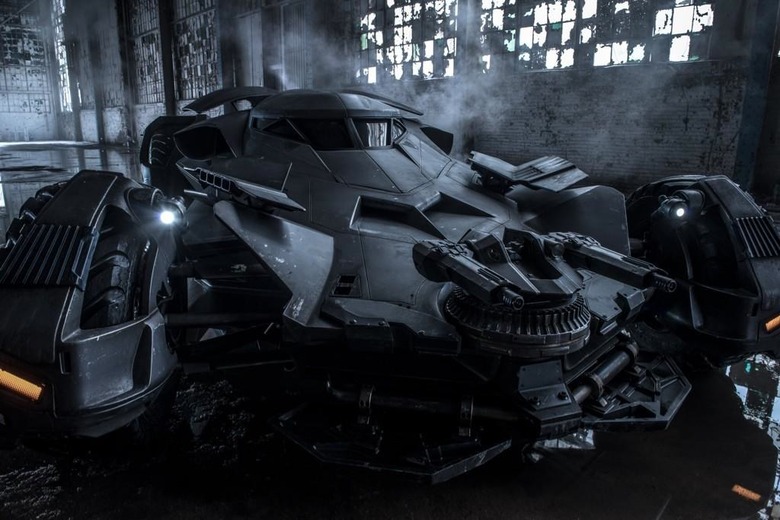 Sure, the official image of the new Batman v Superman Batmobile is beautiful. The lighting is perfect. Every nook and cranny is there. But what does it look like in the wild? Exactly how wide is it? How long is it? What does the back look like? To answer those questions, you've got to see the car on the streets.
One automobile website has done just that, capturing the Batman v Superman Batmoblie cruising all over the streets of Detroit. And these images are way, way better than the blurry Instagram videos you've been seeing online over the past couple weeks. Check out the new Batman v Superman Batmobile photos below.
The Batman v Superman Batmobile photos are accessible over on AutoBlog.com. Click that link, or link from the below tweet:
The Dark Knight hits the streets of #Detroit in his new #Batmobilehttp://t.co/RN4PwkqTiN pic.twitter.com/P4eoHvDibf

— Autoblog (@therealautoblog) September 17, 2014
The best part of these photos, besides the obvious coolness, are the images where you can see the vehicle next to other cars. It's almost double the width and length of a normal automobile. It looks a lower to the ground than the official photo suggests, too.
Of course, this is Ben Affleck's ride in Zack Snyder's Batman v Superman: Dawn of Justice, set for release March 25, 2016. He co-stars as Batman, opposite Henry Cavill as Superman. They'll do battle with Jesse Eisenberg as Lex Luthor, Gal Gadot as Wonder Woman and interact with Amy Adams as Lois Lane, Laurence Fishburne as Perry White and Scoot McNairy as Jimmy Olsen (maybe?). Plus there will be Justice League members such as Jason Momoa as Aquaman, Ray Fisher as Cyborg and Scoot McNairy as The Flash (maybe?). Holly Hunter, Jeremy Irons and Diane Lane are also along for the ride.
Back to the Batman v Superman Batmobile itself, I do love that this car is kind of a "best of" drawn from all the previous Batmobiles. You've got the dome like Tim Burton, wings in the back kind of like the Joel Schumacher, a stature comparable to the Christopher Nolan, and a decidedly video game twist with the guns and things like that. It's pretty great.
What do you think of these new Batman v Superman Batmobile photos?