James D'Arcy To Play The Real Jarvis On ABC's 'Agent Carter'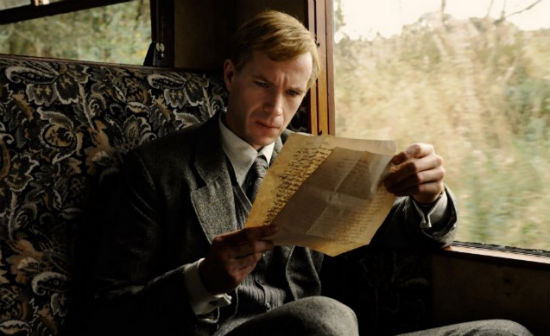 A new piece of casting has added a significant piece of the Marvel Cinematic Universe. We all know Tony Stark's artificial intelligence system is called J.A.R.V.I.S., voiced by Paul Bettany. And by now you may now, J.A.R.V.I.S. is the basis for Vision in Avengers: Age of Ultron. However no one has ever questioned why Stark would name J.A.R.V.I.S. "J.A.R.V.I.S." That's because, in the comics, Jarvis is the name of Stark's butler. In the movies though, he doesn't have a butler. Where's the connection?
The connection comes in on ABC's Agent Carter. That's where James D'Arcy (Cloud Atlas) has just been tasked to play Howard Stark's butler, Edwin Jarvis.
Variety broke the news of the casting, but it was Empire who put two and two together to this fantastic link.
Much like Tony's J.A.R.V.I.S., the real life Jarvis will be lending a hand to our heroes. Apparently he's "an ally to Agent Carter," who'll be played by Hayley Atwell.
Dominic Cooper played Howard Stark in Captain America: The First Avenger and the Marvel One Shot: Agent Carter, upon which the series is based, but he's a movie star. It's unlikely he'll return in a significant role on the TV show so that role might have to be recast. Nothing has been confirmed though.
Still, this connection opens up an almost Gotham-esque subplot to Agent Carter if the series continues on where we could, potentially, meet a young Tony Stark and see how he gets along with Dad's butler.
Agent Carter is scheduled to debut in January 2015. Here's the official synopsis:
"Marvel's Agent Carter," starring Captain America's Hayley Atwell follows the story of Peggy Carter. It's 1946, and peace has dealt Peggy Carter a serious blow as she finds herself marginalized when the men return home from fighting abroad. Working for the covert SSR (Strategic Scientific Reserve), Peggy must balance doing administrative work and going on secret missions for Howard Stark all while trying to navigate life as a single woman in America, in the wake of losing the love of her life–Steve Rogers. Inspired by the feature films "Captain America: The First Avenger" and "Captain America: The Winter Soldier," along with the short "Marvel One-Shot: Agent Carter."
Starring Hayley Atwell as Agent Peggy Carter, "Marvel's Agent Carter" is executive produced by Christopher Markus, Steve McFeely, Tara Butters, Michele Fazekas, Kevin Feige, Louis D'Esposito, Jeph Loeb.