Ed Helms' 'Vacation' Sequel Starts Shooting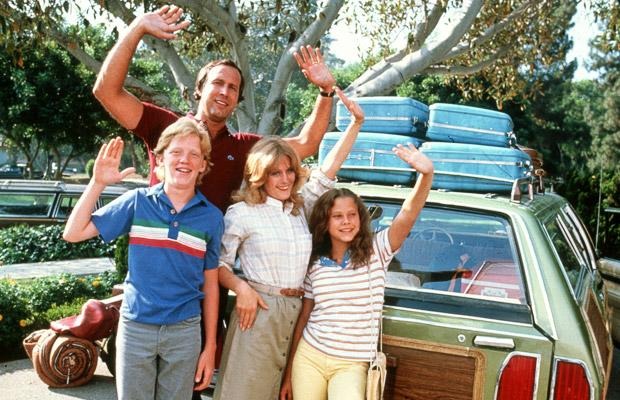 "No, no, no NO NO NO NOOOOOOOO" is how our own Peter Sciretta reacted when news of a Vacation sequel first hit /Film five years ago. Despite his objections, though, New Line pressed on, and as of today the Vacation sequel / reboot / spin-off thing has finally started shooting.
Ed Helms plays Rusty Griswold, now all grown up with a family of his own. But don't worry — Chevy Chase and Beverly D'Angelo will still reprise their roles as his parents, Clark and Ellen Griswold. Christina Applegate, Chris Hemsworth, and Charlie Day also star. Get all the Vacation sequel details after the jump.
As previously reported, Applegate plays Rusty's wife Debbie, Skyler Gisondo and Steele Stebbins their kids, Hemsworth Rusty's hotshot brother-in-law Stone Crandall, and Day a river rafting guide. Leslie Mann is said to be in talks to play Rusty's sister (and Stone's wife) Audrey, but it seems she did not close her deal in time to be included on the press release.
Vacation has been through several ups and downs over the years. David Dobkin was originally going to direct, and then possibly Peter Segal, before screenwriters Jonathan Goldstein and John Francis Daley took over the helm themselves. Shooting was supposed to begin last summer, but a ratings dispute put plans on hold.
Read the full press release about the Vacation sequel below.
BURBANK, Calif.–(BUSINESS WIRE)–The next generation of Griswolds is at it again. Shooting has begun in Georgia on New Line Cinema's "Vacation," starring Ed Helms ("The Hangover" films) and Christina Applegate (the "Anchorman" films) on the road for another ill-fated adventure. The film marks Jonathan Goldstein and John Francis Daley's directorial debut.
Following in his father's footsteps and hoping for some much-needed family bonding, a grown-up Rusty Griswold (Helms) surprises his wife, Debbie (Applegate), and their two sons with a cross-country trip back to America's "favorite family fun park," Walley World.
Rounding out the cast are Chris Hemsworth (the "Thor" films) in the role of Stone Crandall, Rusty's irritatingly successful brother-in-law; Charlie Day (the "Horrible Bosses" films), who plays a river rafting guide; and Skyler Gisondo ("Night at the Museum: Secret of the Tomb," "Hard Sell") and Steele Stebbins ("A Haunted House 2"), who play Rusty's sons, James and Kevin. Chevy Chase and Beverly D'Angelo reprise their roles as Clark and Ellen Griswold from the classic "Vacation" comedies.
Goldstein & Daley ("Horrible Bosses," "Cloudy with a Chance of Meatballs 2") wrote the script, based on characters created by John Hughes. David Dobkin (upcoming "The Judge," "Wedding Crashers") and Chris Bender ("We're the Millers," upcoming "Horrible Bosses 2") are producing, with Marc S. Fischer serving as executive producer.
The directors' behind-the-scenes creative team also includes director of photography Barry Peterson (the "Jump Street" films, "We're the Millers"), production designer Barry Robison ("Wedding Crashers," "Pitch Perfect"), and costume designer Debra McGuire ("Ted").
"Vacation" is a New Line Cinema presentation and will be distributed by Warner Bros. Pictures, a Warner Bros. Entertainment company.