Cool Stuff: Fan Posters For Christopher Nolan's 'Interstellar'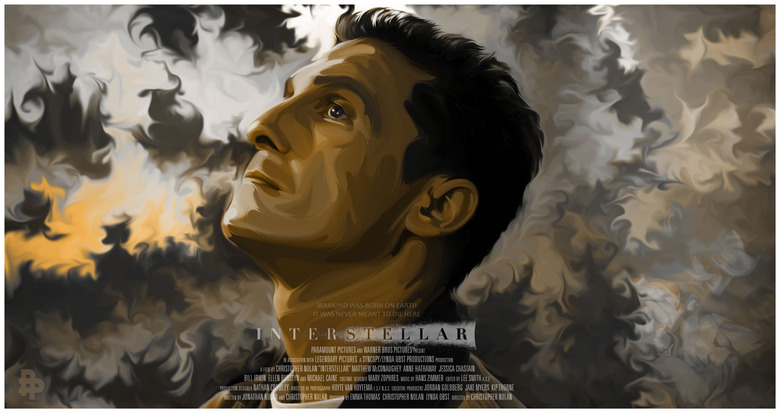 The Interstellar rumblings have began. Star John Lithgow saw the movie this weekend in New York and said the following about it: "Mind blown at 8AM, secret IMAX screening of #Interstellar in NY. So proud to be in it." I've heard rumors of tears upon tears at other early screenings too. Basically, November 7 can't get here fast enough to show us Christopher Nolan's take on space travel starring Matthew McConaughey, Jessica Chastain, Anne Hathaway, Casey Affleck, John Lithgow, Wes Bentley and more.
As we get ready for the film, the Poster Posse has begun to pay tribute. Multiple artists have made fan posters for the highly anticipated sci-fi epic. Check out the Poster Posse Interstellar posters below.
Here are the first batch of Interstellar posters via Blurppy and the second batch here. Below are some of our favorites.
Poster Posse Interstellar posters
Nolan and McConaughey were at Comic-Con a few weeks back to talk about the film and there was a lot of interesting info that came out of if. You can read the full report (and watch the panel) at this link, but here's a just a brief excerpt:
Asked why he wanted to make Interstellar now, Nolan explained that he's "always been a huge fan of science fiction," and that he "grew up being amazed by the sci-fi of the past" such as Star Wars and 2001. "But more than that, I grew up in an era when to be an astronaut was the highest ambition of any child." He misses the idea that we would keep exploring and pushing further and further out into the galaxy. "I hope we're on the cusp of a brand new era looking outwards," Nolan said.
Questioned on technology for the film, he said "we've done a lot different things trying to create the reality of this space mission," and while he declined to name much in terms of specifics, Nolan did say "really the driving force is trying to keep as much reality for the actors as possible." So there are perhaps more windows in the craft than might be the case in real life, for McConaughey and other actors to see their journey. "The thrill of trying to make a large-scale film about journeying through the stars is about taking the audience with us."
Here's the latest trailer for Interstellar, which opens November 7.