Angelina Jolie And Brad Pitt's Marriage Is On The Rocks In First 'By The Sea' Images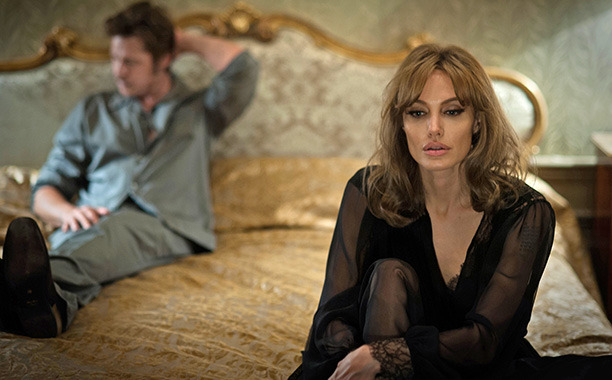 Angelina Jolie and Brad Pitt are celebrating their recent marriage in a most unusual way: by co-starring in a film about a marriage in decline. The two are currently shooting By the Sea, their first film together since 2005's Mr. and Mrs. Smith, and the first pics have just hit the web.
In addition to starring, Jolie also wrote and is directing the film — her third, after 2011's In the Land of Blood and Honey and this Christmas' Unbroken. See the first By the Sea images after the jump.
When By the Sea was first announced, Universal would only state that it was an "intimate, character-driven drama." However, many more details have now been revealed. The pic will follow a couple in mid-1970s France. Jolie plays Vanessa, a former dancer, and Pitt is Roland, an American writer.
The marriage unravels as they travel the country together, but when they stop at one small seaside town she finds herself "caught in au undertow of passion and rejuvenation," as EW puts it. The couple befriend some of the locals, including a bar/café owner (Niels Arestrup, pictured above) and a hotelier (Richard Bohringer). Mélanie Laurent also stars.
In a statement, Jolie discussed the period backdrop: "I chose to set By the Sea in the 1970s, not only because it is a colorful and alluring era, but because it removes many of the distractions of contemporary life and allows the focus to remain squarely on the emotions that the characters experience in their journey."
Other key crew members include editor Patricia Rommel (The Lives of Others), production designer Jon Hutman (Unbroken), costume designer Ellen Mirojnick (Cinemax's The Knick), and Christian Berger (The White Ribbon).
Shooting on By the Sea began last week and will continue through mid-November. No release date has been set, but we can probably expect one sometime next year.