'The Hobbit: The Battle Of The Five Armies:' Check Out This Massive Banner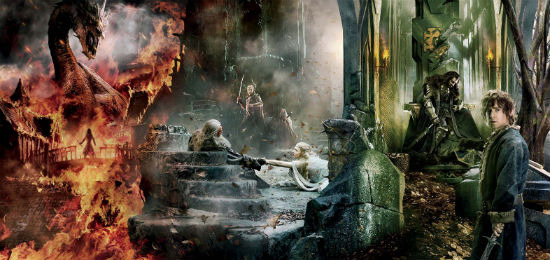 In terms of box office, this Winter comes down to two sequel: The Hunger Games: MockingJay Part 1 and The Hobbit: The Battle of the Five Armies. Well the first one released a trailer today and Peter Jackson's epic isn't far behind. They've revealed a massive, massive banner for the film that's basically the equivalent of seven new Hobbit 3 posters. Check it out below.
Thanks to Warner Bros. (via Coming Soon) for the image. Click on it to see it much larger:

In this banner, you basically get the whole movie. You've got Smaug's attack, the plight of Gandalf versus the Necromancer, Bilbo's internal struggle, the fate of the Elves, the actual battle of the Five Armies including the Dwarves all ready for war, and Gandalf and Bilbo ready to fight as well.
Considering we're just three months out, you'd think anticipation for the third and final Hobbit movie would be higher. However I feel like audiences are a bit burnt out after the last two films, both of which had their moments, but ultimately didn't satisfy. You can read my reviews of An Unexpected Journey and The Desolation of Smaug at those links.
On the other hand, The Return of the King was – in my mind – the best of the Lord of the Rings trilogy and I think the simple fact The Battle of the Five Armies has an actual ending will make it more satisfying. What do you think?
The Hobbit: The Battle of the Five Armies opens December 17. Directed by Peter Jackson, it has an insanely massive cast including Ian McKellen, Martin Freeman, Richard Armitage, Evangeline Lilly, Lee Pace, Luke Evans, Benedict Cumberbatch, Stephen Fry, Cate Blanchett, Ian Holm, Christopher Lee, Hugo Weaving, Ken Stott, James Nesbitt, Orlando Bloom, John Bell, Manu Bennett, Jed Brophy, Adam Brown, John Callen, Billy Connolly, Ryan Gage, Mark Hadlow, Peter Hambleton, Stephen Hunter, William Kircher, Lawrence Makoare, Sylvester McCoy, Graham McTavish, Dean O'Gorman, Mikael Persbrandt and Aidan Turner.