'Alien' 35th Anniversary Blu-Ray Details Revealed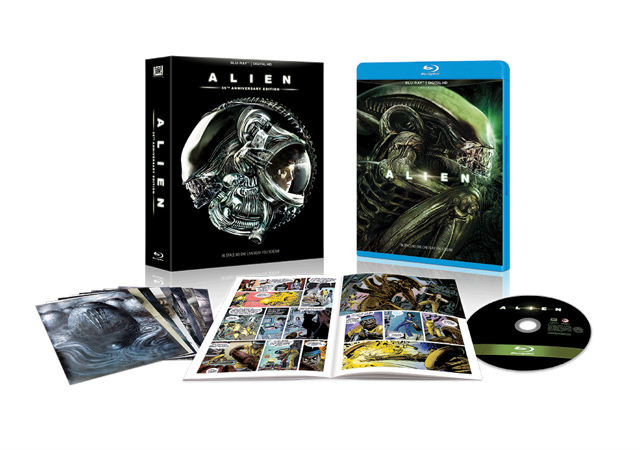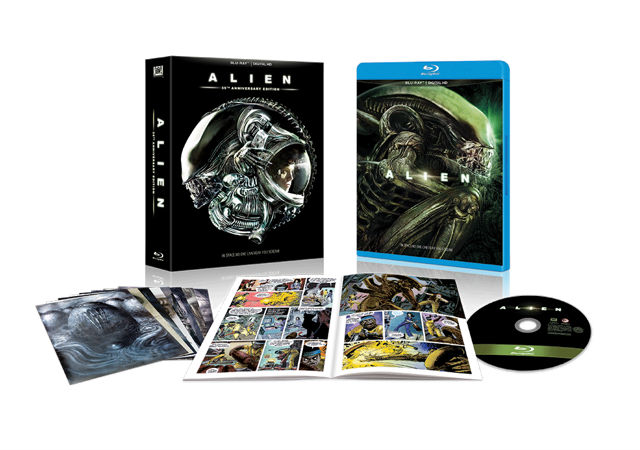 Ridley Scott's 1979 masterpiece Alien taught us that in space, no one can hear you scream. 20th Century Fox has just announced the specs and box art for their brand new, 35th anniversary Blu-ray for Alien. Check out art and press release for the Alien 35th anniversary Blu-ray below. It's out October 7.
Here are some images of the Alien 35th Anniversay Blu-ray, which you can pre-order here for release October 7.
Here's the full press release and specs:
A word of warning.... This Halloween revisit one of the scariest films of all-time as ALIEN: 35TH Anniversary Edition arrives on Blu-ray October 7 from Twentieth Century Fox Home Entertainment. This Limited-Edition Set includes both the theatrical version and director's cut on Blu-ray, along with audio commentaries, deleted scenes and more — PLUS — a reprint of the original Alien illustrated comic and all-new, collectible art cards as a tribute to the late H.R. Giger, creator of the iconic movie monster that started it all.When the crew of the space-tug Nostromo responds to a distress signal from a barren planet, they discover a mysterious life form that breeds within human hosts. The acid-blooded extraterrestrial proves to be the ultimate adversary as crew members battle to stay alive and prevent the deadly creature from reaching Earth. Directed by Ridley Scott and starring Sigourney Weaver in her breakout performance as Ripley, this legendary first film in the ALIEN saga will leave you breathless!Throughout 2014, Twentieth Century Fox Consumer Products is honoring the milestone 35th anniversary with a yearlong celebration marking the beginnings of the Alien legacy by releasing commemorative and fan-favorite products. Best in Class licensees including Dark Horse Comics, SEGA, NECA, Titan Publishing, Sideshow Collectibles, Diamond Select toys, Super7 x Funko and other partners will roll out exclusive branded publishing, toys and collectible merchandise worldwide to celebrate the ALIEN franchise. The highly-anticipated first person survival horror game Alien: Isolation will be available on the PlayStation®4 computer entertainment system and Xbox One, the all-in-one games and entertainment system from Microsoft, as well as PlayStation®3 computer entertainment system and the Xbox 360 ® video game and entertainment system from Microsoft and PC also on October 7. In addition to Alien: Isolation, hardcore fans can finally add Lieutenant Ellen Ripley to their ALIEN collections as we welcome her NECA figures into the family of officially-licensed merchandise. Many other exciting first-time and limited edition products will also release to celebrate this exciting milestone this year.Fans can also help celebrate the 35th anniversary of ALIEN by joining the fight at www.AlienRevolt.com. Simply login to Facebook to create your profile, choose your team and complete the missions, sharing your triumphs with friends. The more badges you earn the bigger chance you have taking home some great ALIEN prizes including H.R. Giger's Alien Diaries, a copy of the all-new ALIEN: ISOLATION video game from Sega and more!ALIEN: 35th Anniversary Edition Blu-ray Special Features
Includes the 1979 Theatrical Version and 2003 Director's Cut!
Audio Commentary by Director Ridley Scott, Cast and Crew
Audio Commentary by Ridley Scott (Theatrical Version Only)
Introduction by Ridley Scott (Director's Cut Only)
Final Theatrical Isolated Score by Jerry Goldsmith
Composer's Original Isolated Score by Jerry Goldsmith
Deleted and Extended Scenes
Digital HD
Alien Illustrated Comic
Collectible Art Cards
ALIEN: 35th Anniversary Blu-rayStreet Date: October 7, 2014Prebook Date: September 3, 2014Screen Format: Widescreen 2.35:1Audio: English 5.1 DTS-HD Master AudioEnglish 4.1 Dolby SurroundEnglish Dolby SurroundSubtitles: English / Spanish / French / PortugeuseU.S. Rating RClosed Captioned: Yes