'Star Wars Episode 7' Adds A J.J. Abrams Regular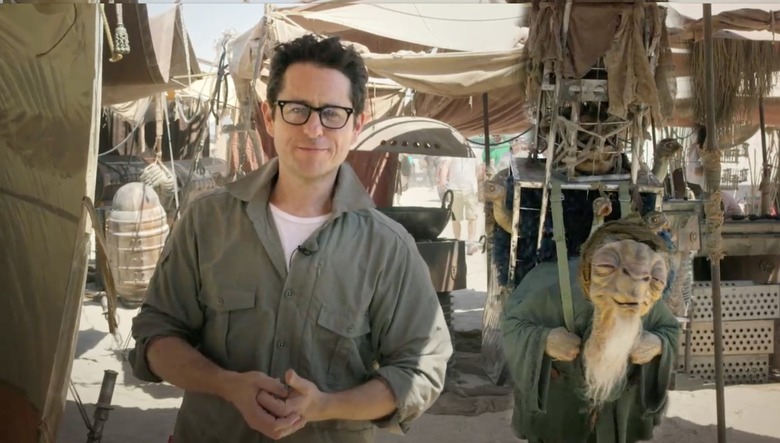 All filmmakers have their habits, and one of J.J. Abrams' is Greg Grunberg. The two have been pals since childhood, and Abrams includes the actor in his projects whenever possible. As of today, we've learned that that even includes Star Wars Episode VII. Hit the jump to read Grunberg's Star Wars announcement.
Yes @smgulz it IS safe to assume I have a role in #StarWarsEpisodeVII – If I say more than that, JJ will have me killed.

— Greg Grunberg (@greggrunberg) September 11, 2014
Outside of his personal and professional relationship with Abrams, Grunberg is best known for starring as telepathic police officer Matt Parkman in Heroes. He currently has a recurring role as Gene Moretti the Pretzel King on Showtime's Masters of Sex.
Grunberg isn't likely to have a big role in Star Wars, but Abrams seems to enjoy including his buddy in a cameo whenever he can. The two have been working together for nearly 40 years at this point. It's worked out pretty well for both of them, as seen in the timeline below.
A Brief History Leading Up to Greg Grunberg in Star Wars
1976ish: Grunberg gets into acting when he stars in home movies made by Abrams.
1991-1992: Grunberg, Abrams, and another Abrams regular, Matt Reeves, collaborate on the short film "Mr. Petrified Forrest." It is released in 1994 as part of the anthology Future Shock.
1996: Reeves directs The Pallbearer; Abrams produces and Grunberg gets a small role as "an Abernathy cousin."
1998-2002: Grunberg co-stars as Sean Blumberg on the Abrams-created Felicity.
2001-2006: Grunberg co-stars as Eric Weiss on the Abrams-created Alias.
2005: Grunberg stars in Abrams' bounty hunter pilot The Catch, which fails to get picked up.
2004: Grunberg appears as Oceanic Flight 815 pilot Seth Norris in Abrams' Lost pilot. He's supposed to come back for the season finale, but his scenes get deleted.
2006: Grunberg plays "Kevin" in Abrams' feature directing debut, Mission: Impossible III.
2006: Grunberg appears in the pilot for What About Brian, which Abrams executive produced.
2009: Grunberg is heard as the voice of James T. Kirk's stepfather in Abrams' Star Trek.
2011: Grunberg appears as a TV actor in the background of Abrams' Super 8.
2013: Grunberg does not appear in Abrams' Star Trek Into Darkness, which Star Trek fans later vote the worst Star Trek film of all time.
2014: Abrams learns his lesson, makes sure to include Grunberg in Star Wars Episode VII.
Star Wars Episode VII opens December 18, 2015.