Kristen Wiig Endorses Bill Murray's 'Ghostbusters 3' Endorsement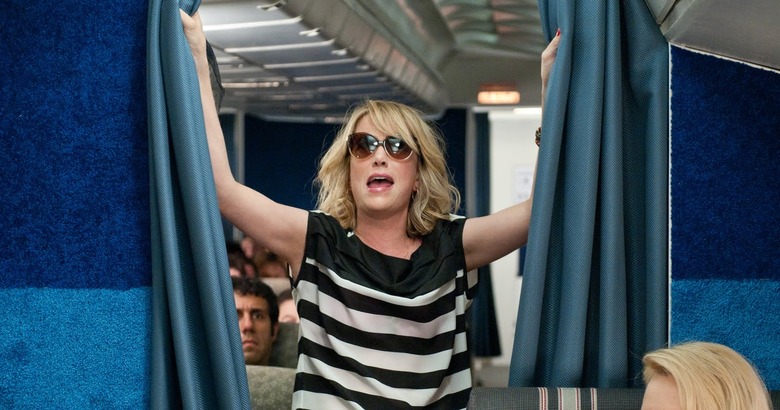 Bill Murray has no plans to star in Ghostbusters 3, as he's established many times. But he's still happy to weigh in with ideas on who should, including Kristen Wiig and Melissa McCarthy. Now Wiig has responded to his suggestion, and she seems open to the notion — if only because she "will do whatever Bill Murray tells [her] to." Hit the jump to read her reply in full.Yahoo brought up Murray's comments during a press event for Wiig's latest movie, The Skeleton Twins. At first, she sounded polite but nonchalant: "That's very flattering. I guess they're making one from what I hear, which is pretty great." Later on, though, she admitted, "I will do whatever Bill Murray tells me to."
Her Skeleton Twins co-star Bill Hader seemed on board with the idea as well. "I don't want to pressure you. But you should do it," he said. "And you should have a friend, who's like a guy, who has to carry around your proton pack." Wiig and the interviewer suggested he'd make a good "Andy Potts."
Wiig was one of several actresses named by Murray as his picks for Ghostbusters 3. "Melissa would be a spectacular Ghostbuster. And Kristen Wiig is so funny — God, she's funny!" he said last weekend. "I like this girl Linda Cardellini a lot. And Emma Stone is funny. There are some funny girls out there."
For her part, McCarthy, who stars with Murray in St. Vincent, has already voiced her willingness to take the role. "Oh, my God, that's daunting. That's taking on a legend, a legendary movie. But I would do anything with those ladies, anything at all," she told press. Cardellini and Stone have not commented, as far as we know.
Stone has actually been rumored for Ghostbusters before, though reports that she was being eyed were quickly followed by reports she wasn't interested. And come to think of it, Hader has been previously linked to the film as well. He claimed to know nothing about it at the time, but declared he'd do it "in a heartbeat." Really, at this point, the only person we know for sure isn't starring in it is Bill Murray.