Katie Holmes Is Going To Be A Director Now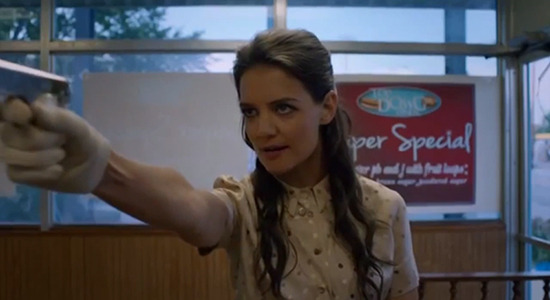 We may receive a commission on purchases made from links.
In Dawson's Creek, it was always Dawson who wanted to be the big-time filmmaker. But in real life, it looks like little Joey Potter will be the first one of the gang to helm her very own feature.
Katie Holmes is set to make her directorial debut on All We Had, an adaptation of the novel by Annie Weatherwax. Josh Boone, who's coming off the YA smash The Fault in Our Stars, will write the script. Hit the jump for more details.
The move comes as a surprise because compared to some of her fellow actor-turned-directors, Holmes hasn't been terribly vocal about her filmmaking aspirations. She has shown an interest in shaking up her image, however, with projects like Miss Meadows, in which she plays an unlikely vigilante. (Pictured above.)
Holmes's acting career has been relatively busy as of late. She had a supporting role in this summer's The Giver, and stars later this month in the Chekhov-inspired Days and Nights. She is currently in the middle of shooting Woman in Gold with Helen Mirren, Tatiana Maslany, and Ryan Reynolds.
All We Had concerns a mother (Holmes) and her 13-year-old daughter on the brink of poverty. When they get kicked out of their house, they eventually make a new home among the colorful residents of a small town. A more detailed synopsis of the book can be found below.
"Katie has such a clear vision for the book's irreverent, original mother-daughter relationship," said Rosenthal in a statement. "Her passion for the material, along with Josh Boone's ability to tell stories grounded in the comedy and drama of everyday, will truly bring these characters to life."
Here's a summary of Weatherwax's All We Had from Amazon:
For thirteen-year-old Ruthie Carmichael and her mother, Rita, life has never been stable. The only sure thing is their love for each other. Though Rita works more than one job, the pair teeters on the edge of poverty. When their landlord kicks them out, Rita resorts to her movie-star looks and produces carpet-installer Phil, "an instant boyfriend," who takes them in.
Before long, Ruthie convinces her mother to leave and in their battered Ford Escort, they head East in search of a better life. When money runs out and their car breaks down, they find themselves stranded in a small town called Fat River where their luck finally takes a turn. Rita lands a steady job waitressing at Tiny's, the local diner. With enough money to pay their bills, they rent a house and Fat River becomes the first place they call home.
Peter Pam, Tiny's transgender waitress and the novel's voice of warmth and reason, becomes Ruthie's closest friend. Arlene, the no-nonsense head waitress, takes Rita under her wing. The townspeople—Hank and Dotty Hanson, the elderly owners of the embattled local hardware store, and even their chatter-mouth neighbor Patti—become Ruthie and Rita's family.
Into this quirky utopia comes smooth-talking mortgage broker Vick Ward, who entices Rita with a subprime loan. Why rent when you can own? Almost as soon as Rita buys a house their fortunes change. Faced once again with the prospect of homelessness, Rita reverts to survival mode, and the price she pays to keep them out of poverty changes their lives forever.