'The Babadook' Poster: Evil Pops Up Everywhere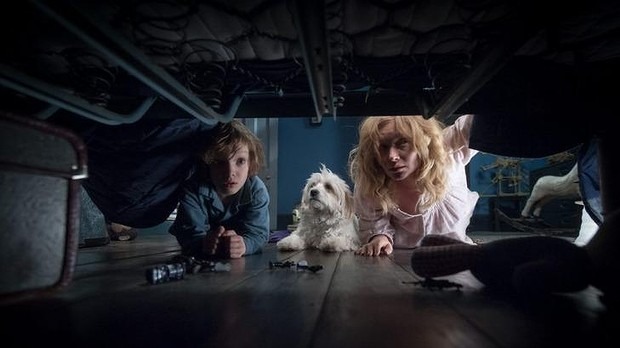 The Babadook, which follows a very troubled single mother and her son, is the best horror film I've seen in 2014. In fact, it's one of the best I've seen in a long time, period. So we're going to keep talking about it, because the name isn't the sort that ropes audiences in right away. (In fact, the film's title is the main reason I almost blew it off at Sundance. Very glad I did not.) Here's a great new Babadook quad poster from the UK, along with a trailer for the film that we haven't run in the past.
The Babadook is from writer/director Jennifer Kent, and features two standout performances from Essie Davis and Noah Wiseman. And then there's the storybook that acts as a portal to some of the small family's worst fears, as represented in life-size pop-up fashion on the poster below. One of the reasons the film is so strong is that the characters and their basic problem would be interesting without the supernatural elements introduced via the book. Those elements, however, offer up some really tasty scares.
Empire has this poster.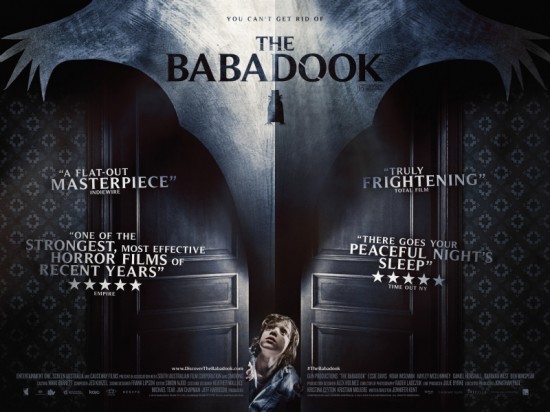 Here's a slightly different trailer than the one we've run before:
The Babadook opens on October 24 in the UK and November 28 in the US.
Six years after the violent death of her husband, Amelia (Essie Davis) is at a loss. She struggles to discipline her 'out of control' 6-year-old, Samuel (Noah Wiseman), a son she finds impossible to love. Samuel's dreams are plagued by a sinister monster he believes is coming to kill them both.
When a disturbing storybook called 'The Babadook' turns up at their house, Samuel is convinced that 'The Babadook' is the creature he's been dreaming about. His hallucinations spiral out of control and as he becomes more unpredictable and violent, Amelia is genuinely frightened by her son's behaviour.
But when Amelia begins to see glimpses of a sinister presence all around her, it slowly dawns on her that the thing Samuel has been warning her about may be real."