Rumor: 'Guardians Of The Galaxy's Drax Will Play A Big Role In 'Avengers 3'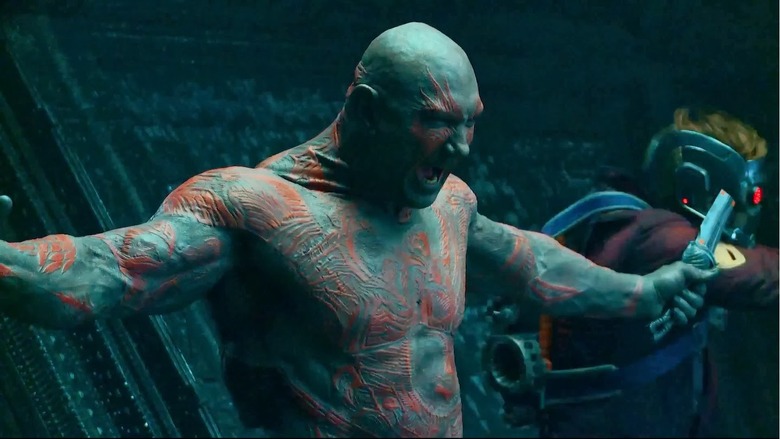 Most people couldn't dream of stealing scenes away from colorful characters like Star-Lord and Rocket Raccoon, but Drax the Destroyer isn't most people. The hilariously literal warrior won us over in this summer's Guardians of the Galaxy, with his dry delivery, tragic sob story, and badass moves. Now it seems Marvel's hoping he'll do the same in Avengers 3.
Rumor has it Dave Bautista is being set up for a major role in the upcoming threequel, which is expected to close out Phase Three of the Marvel Cinematic Universe. Hit the jump for all the details.
Although this summer's Guardians of the Galaxy had virtually no crossover with any of the other MCU films, fans have long assumed that the Guardians and the Avengers would meet at some point down the line. Director James Gunn has even confirmed that the Guardians storyline was "definitely connected" to the plot of Avengers 3.
The threequel is expected to bring to a head Thanos' ongoing quest to collect all the Infinity Stones. Drax has already come into contact with one of the artifacts, thanks to the events of Guardians of the Galaxy, so it'd make sense for him to pop up again as Thanos makes progress. Moreover, Drax figures prominently in the comic book version of the storyline.
As usual with Marvel, it's best to treat these reports as rumor until Marvel comes out with an official confirmation — and as usual with the studio, they aren't saying anything. As of now, Avengers 3 hasn't even technically been announced. Though it'd be foolish to bet against it, given how much money these movies are making.
In the meantime, look out for Drax in Guardians of the Galaxy 2 on July 28, 2017.