First Look At Chris Pine, Patrick Wilson, And Brooklyn Decker In 'Stretch' From Joe Carnahan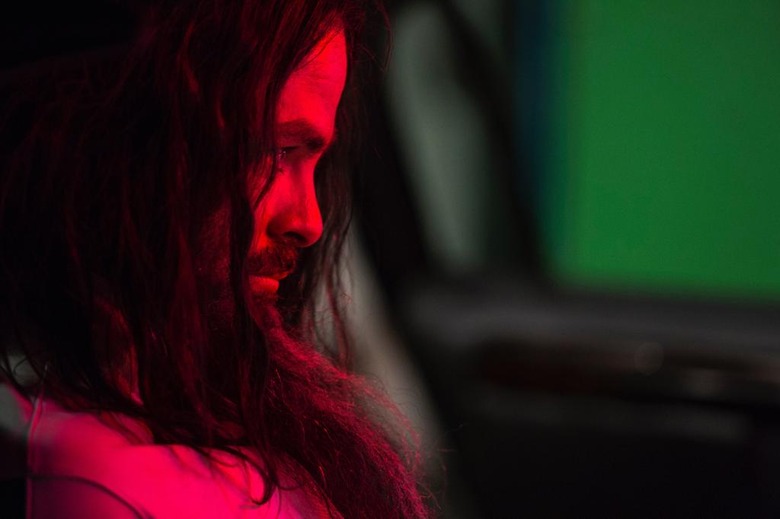 Joe Carnahan shot a film called Stretch last year, with Chris Pine, Jessica Alba, Patrick Wilson, and Brooklyn Decker in the cast. Originally set to be released by Universal, it's not your average studio movie — for instance, that's Chris Pine in the film, above. Pine's character is a billionaire who has a shady deal in mind, and recruits the main character of the movie, a chauffeur played by Patrick Wilson, to drive him around as he gets things in motion.
Carnahan himself has said it's a weird movie, and it has gone through a bit of a weird phase. Originally set for release this past March, the Jason Blum-produced Stretch has been in a sort of limbo as it finds a new release plan. Now Carnahan is releasing the first pictures (and a very small bit of video) from the film, and you can see just how wild it might be.
Here's what Angie wrote summarizing the plot:
The under-$5 million pic follows a chauffeur who's deep in debt to a bookie. In the hope of scoring a big tip, he picks up a risky job ferrying around a mysterious billionaire (Pine) who wants to sell his book of criminal contacts. The driver tries his best to fulfill all of his client's requests, but the night takes ever stranger turns, he starts to wonder if his life is in danger. Helms plays a fellow chauffeur who serves as his conscience. Brooklyn Decker [plays] Wilson's wild and materialistic ex, who's now engaged to another man.
The images all come from the Stretch twitter account.
There's also this very brief video:
Germain talked to Carnahan a few months ago, and the director was brutally honest about his love for the film, and about some of the difficulties it faces.
[Stretch] was a five million dollar film. It was 23 days. I love Patrick Wilson. I love Chris Pine. And we made what I consider, and I'm telling you, dude, wait till you see this film. It's fucking great. The problem right now is it's like a kid that's wandering around the house. He's dirty, he needs a haircut, he needs a new set of clothes. If you just put that on him, scrub him up and you send him out in the world, he can make a living. It's like I just need to finish this properly. And because of this Blumhouse model, it's like 'Well there's X amount of dollars.' And, you know, the songs I want, which are so huge and such a part of the film, exceed the bandwidth if the budgetary thing. So there's that. There's a lot of things.
But I guess the most disappointing part of that whole thing is that the movie's so good, and I have final cut, and I guess I was also kind of resistant to whatever notes I was hearing, which didn't really jibe with what we had in mind. The movie I ultimately wanted to make. Now, in doing so and looking at what you're marketing, it's something that's quirky.
We really want to see Stretch, especially after catching a look at some of these images. Here's hoping that Carnahan's film gets in front of an audience, and that it stays weird.