'True Detective' Season 2: Rachel McAdams Eyed For Female Lead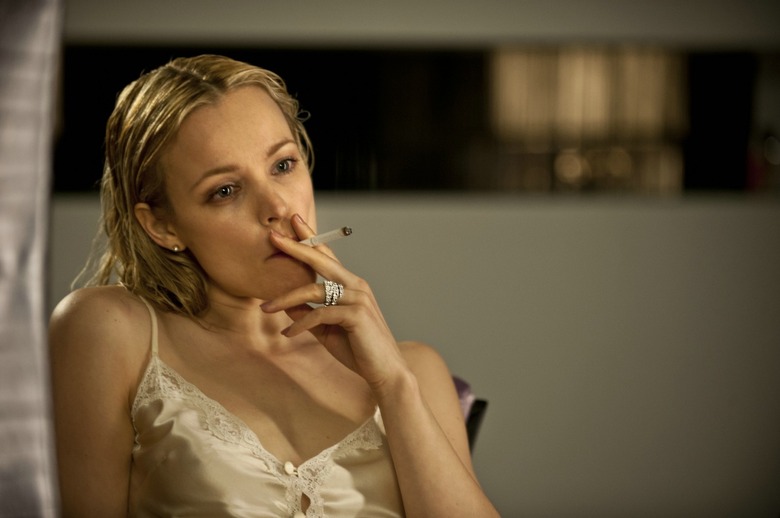 Elisabeth Moss seemed pretty well suited to that True Detective Season 2 gig, not least because she pulled off a similar-sounding role to great acclaim in Top of the Lake. But just because she's qualified doesn't mean no one else is, and now it seems she has a little competition.
According to a new report, Rachel McAdams is in the running for the same True Detective Season 2 part that Moss has been circling for the past few weeks. Meanwhile, the other three leads — Colin Farrell, Taylor Kitsch, and Vince Vaughn — seem all but set. Get character details and more after the jump.
As previously reported, True Detective Season 2 will be set in California. McAdams and Moss are vying for the part of Ani Bezzerides, a no-nonsense Monterey sheriff whose troubled childhood has led to an adulthood plagued by gambling and alcohol addictions.
Ani joins officers from two other cities — Farrell's Ray Velcoro and Kitsch's Paul Woodrugh — to investigate the suspicious death of a corrupt California city manager. Vaughn will play businessman Frank Semyon, who serves as the season's main antagonist but isn't necessarily a villain.
True Detective Season 2 would be a slightly unusual step for McAdams, in that she doesn't venture onto the small screen very often. As a matter of fact, her last regular TV gig was Season 1 of Canada's Slings and Arrows, all the way back in 2003.
But that's not a bad thing. As talented and as charming as McAdams is, her movies have been pretty hit-or-miss. (At least her most recent release, A Most Wanted Man, was one of the better ones.) Maybe a prestigious television project is exactly what she needs to kick her career to the next level.