Watch Tom Hiddleston Sing As Hank Williams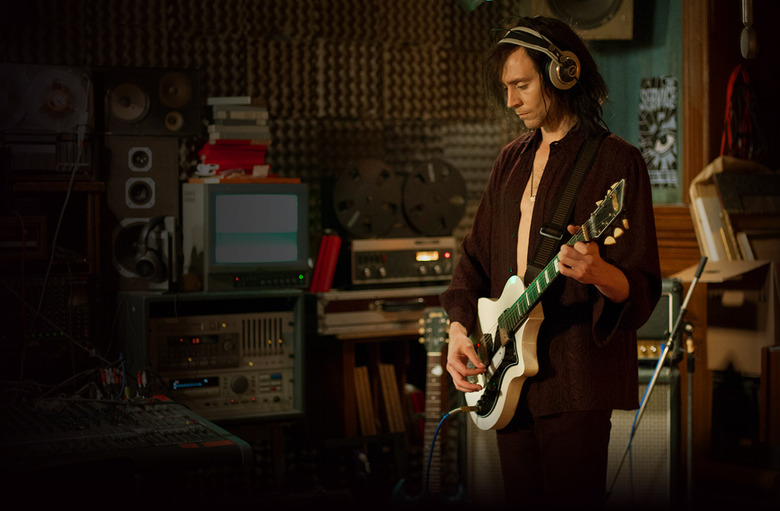 To put it mildly, Tom Hiddleston didn't seem like the most obvious choice to play Hank Williams in the Marc Abraham-directed biopic I Saw the Light. Hiddleston is a classically trained 30something British actor; Williams was an all-American country music legend who was just 29 when he passed away.
But now that he has the role, the question is whether Hiddleston's got the chops — and naturally, Hiddleston seems very eager to put any doubts to rest. Over the weekend, he took the stage at Michigan's Wheatland Music Festival for a performance of Williams' "Move It On Over." Hit the jump to watch Tom Hiddleston sing as Hank Williams.
For comparison, here's Williams' original.
Hiddleston reportedly did a second Williams-inspired performance later in the weekend, this time doing "I'm So Lonesome I Could Cry." But sadly, we don't have any video footage of that one right now. You'll have to content yourself with this picture instead.
Another Wheatland Music Fest pic for you @twhiddleston fans. He sang "I'm So Lonesome I Could Cry" w/@RodneyJCrowell: pic.twitter.com/GsGYaITX2f

— Elisabeth Waldon (@elisabethwaldon) September 7, 2014
"I'm So Lonesome I Could Cry" is one of several songs Hiddleston is expected to sing in the film, as I Saw the Light was able to strike a deal with Sony for Williams' music catalog. "Your Cheatin' Heart" and "Hey Good Lookin'" are among the others included in the agreement.
Any film based on such an iconic figure is bound to draw scrutiny, and initially the choice of Hiddleston didn't seem to pass muster with fans. However, the hardworking actor seems well aware of the importance of this particular role.
"Hank's life has a tragic arc, but in simple truth, he was a genius: a star that burned twice as bright and lived half as long," he gushed to the Daily Mail in June. "It's a huge role for me and a huge responsibility. I'm going to give it everything I've got."
Shooting on I Saw the Light begins this October in Louisiana. What do you think of Hiddleston's performance as Williams?
I Saw The Light. pic.twitter.com/LBSiP5tBVb

— Tom Hiddleston (@twhiddleston) June 13, 2014