Bill Murray Has Casting Suggestions For The All-Female 'Ghostbusters' Reboot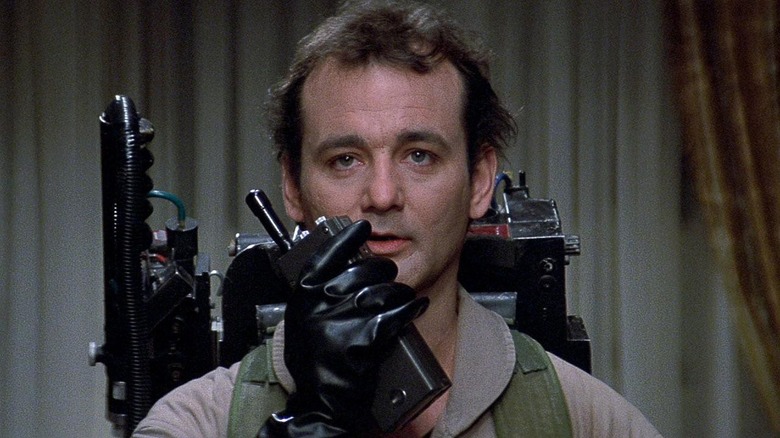 The idea of an all-female Ghostbusters 3 attracted both enthusiastic supporters and vehement detractors, but you can count Bill Murray in the former camp. "I would go to that movie," the former Dr. Peter Venkman told press at TIFF this weekend.
In fact, not only is he into the idea, he also has some ideas about whom he'd like to cast. And yes, of course rumored director Paul Feig's favorite muse Melissa McCarthy is one of them. Hit the jump to find out who the others are — and why he digs the idea so much in the first place.
It sounds great to me. It sounds as good an idea as any other! There are a lot of women that could scare off any kind of vapor! No, it's a grand idea, I don't know who they're talking about, but it's a good idea, I would watch it!  I mean, I love Robert Palmer's videos, so why wouldn't I love the female Ghostbusters?
Murray even reiterated his stance in a separate chat with the Toronto Star. "I would go to that movie, and they'd probably have better outfits, too," he told the paper.
While no stars have been announced at this point, Murray had a few suggestions of his own. "Melissa would be a spectacular Ghostbuster. And Kristen Wiig is so funny — God, she's funny!" he offered. "I like this girl Linda Cardellini a lot. And Emma Stone is funny. There are some funny girls out there."
It's no wonder Murray should support McCarthy for Ghostbusters 3, considering he was at TIFF to promote a film they'd starred in together — the dramedy St. Vincent. Besides, given how frequently she and Feig work together, she just seems like an obvious choice for a Feig-directed female Ghostbusters reboot.
For her part, McCarthy seems into the idea. "Oh, my God, that's daunting," she said of the prospect. "That's taking on a legend, a legendary movie. But I would do anything with those ladies, anything at all." However, it's just wishful thinking at this point, as McCarthy also added that "nobody has talked to me about it."
At least that's more enthusiasm than Murray has managed to muster for the project. Murray has steadfastly refused to reprise his role for the film, and in a separate TIFF interview producer Ivan Reitman admitted that Murray probably wouldn't be involved in the latest incarnation of the project, either.
"Every once in a while [Murray] would say, 'it would be kind of nice to do another one if only I find a script that was good enough', but in his brain and his heart, I don't think it's really there," Reitman said.