'Veronica Mars' Spinoff 'Play It Again, Dick' Gets A Trailer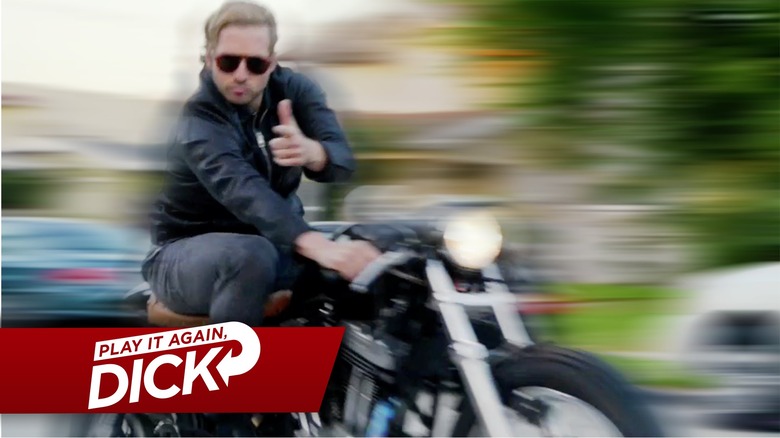 While we wait and see whether the Veronica Mars movie ever gets a sequel, the Neptune gang is reuniting for something a little different. The web series Play It Again, Dick will take a meta approach to the noir cult hit, following Veronica Mars actor Ryan Hansen as he tries to convince his old co-stars (including Kristen Bell and Jason Dohring) to help get a Dick Casablancas-centric Veronica Mars spinoff in motion.
If the first Play It Again Dick trailer is any indication, that'll be way easier said than done. Hit the jump to watch the first promo.
I haven't the slightest idea what Hansen is like in real life, but the Play It Again Dick version of him seems a lot like Dick Casablancas. He promises "motorcycle, catchphrases, signature cocktail, barely dressed hot chicks, me nailing hot chicks, badassery," which sounds exactly like the kind of stuff Dick would be into as well. Bell looks a lot less interested in it, though. Maybe she just doesn't want Veronica to face more competition in the Neptune P.I. game.
Aside from Hansen, Bell, Dohring, and Amanda Noret, all of whom are seen in the trailer, Play It Again, Dick will also feature appearances by Enrico Colantoni (Keith Mars), Percy Daggs III (Wallace Fennel), Ken Marino (Vinnie), Daran Norris (Cliff McCormack), Francis Capra (Weevil), Kyle Gallner (Beaver), Chris Lowell (Piz), and more.
Play It Again, Dick will premiere September 16 on CW Seed.
Seeking to capitalize off the heat from the VERONICA MARS movie, actor Ryan Hansen sets out to write, direct, produce, and star in a spin-off for his beloved character, Dick Casablancas. Now all he has to do is convince Kristen Bell, Jason Dohring, Ken Marino, and the rest of the cast to come along for the ride. PLAY IT AGAIN, DICK is created and executive produced by Rob Thomas (VERONICA MARS and iZOMBIE).