Vision Costume For 'Avengers: Age Of Ultron' Revealed [Updated]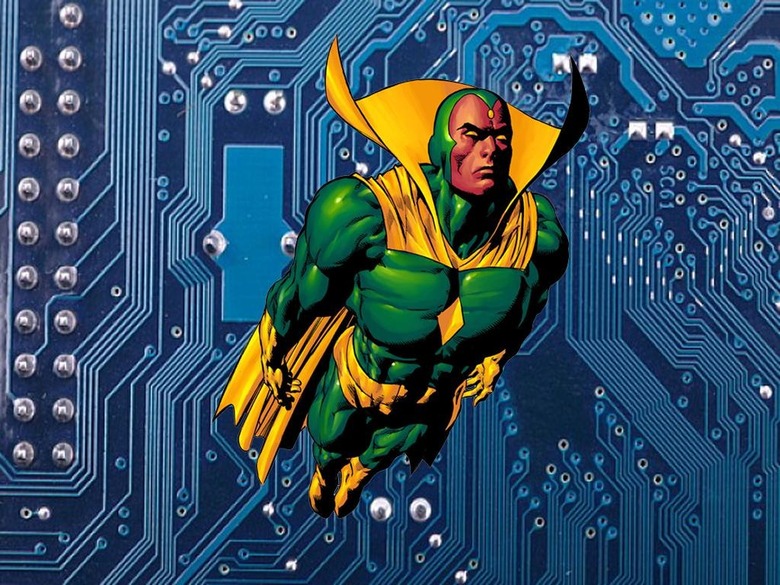 Below is your first real look at Vision, played by Paul Bettany, in Avengers: Age of Ultron. Like our first small look at the character, this is an artist's depiction rather than a photo of the actor in costume. But it shows much of the detail you want to see. Red skin, green costume, yellow/white cape — all there. More to the point, the character hasn't been made to look normal. This incarnation of Vision is immediately recognizable as the character from comic books. The only thing missing, in this art at least, is the giant collar. We can deal with that. Check out the new look at Vision in Age of Ultron after the jump.
Update: A new piece of art gives a much better look at the costume.
Update 2: That second piece of art has been pulled.
The first pic originally came from Instagram.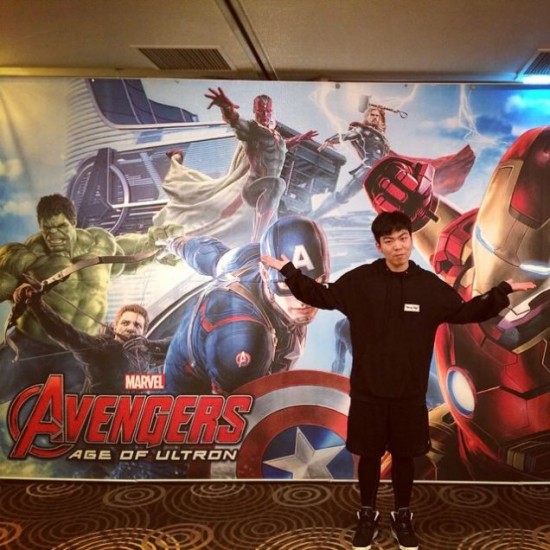 Sadly that's as high-res as the pic gets. We can't even do much to enlarge the section with Vision, because this isn't Blade Runner and when I say "enhance" my laptop just sits there. This is all an enlargement can really do: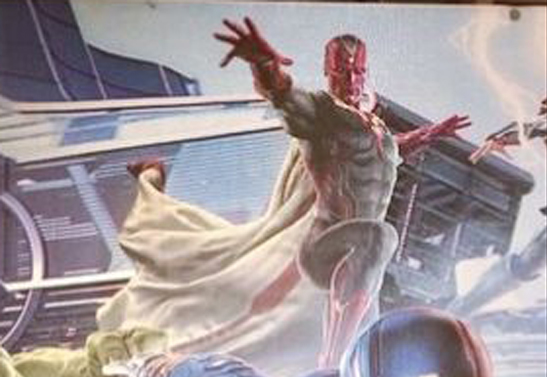 Update: Here's a second and much better piece of art, from Sideshow Collectibles via io9.
[Image removed at legal request]
Over the summer, I spoke to Bettany at Comic Con, and he explained a bit about the costume. Read his comments below, and join us in eager anticipation of the first footage of the character in action.
Do you wear a big yellow cape?
Can't discuss that. There is a cape, and it's fabulous.
How did everyone else respond to the costume?
With a great deal of pity. It is a real thing. We spent a lot of time working out how to keep me cool in that costume. While it is one of the most genuinely, in all of the work that I've ever done, an extraordinary achievement that has nothing to do with me, it's just a really beautiful piece of design and then manufacturing this thing out of a lot of materials that haven't existed for a long time. It's really cool looking. The consequence is it's fucking hot!
***
Avengers: Age of Ultron is set for release on May 1, 2015. It also stars Robert Downey Jr., Chris Hemsworth, Mark Ruffalo, Chris Evans, Scarlett Johansson, Jeremy Renner, Samuel L. Jackson, Aaron Taylor-Johnson, Elizabeth Olsen, James Spader, Cobie Smulders, and Thomas Kretschmann.