Sequel Bits: 'Magic Mike XXL', '24', 'Mission: Impossible 5', 'Pirates Of The Caribbean 5'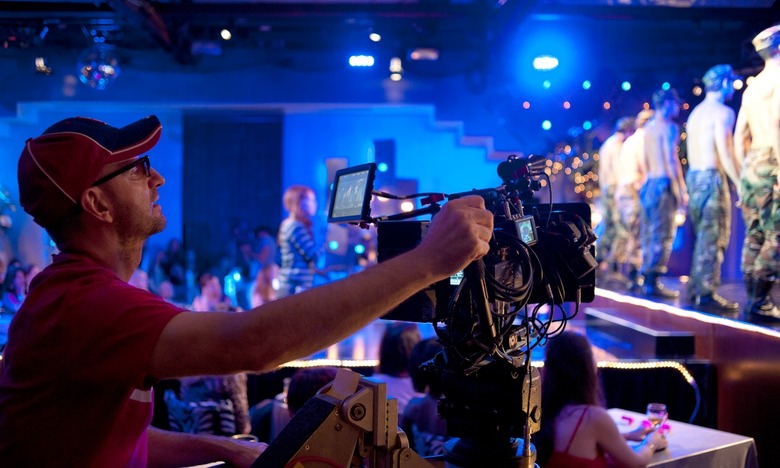 Thought the piss-poor box office figures for this past summer would discourage studios from making more sequels? Think again. After the jump:
Relativity will release The Woman in Black 2
Could Koba be back for the next Apes movie?
Wesley Snipes might return for another Blade film
Will Forte still really wants a MacGruber sequel
Pirates of the Caribbean 5 may set sail for Australia
Mission: Impossible 5 jets off to Morocco
Is there any chance of more Deadwood?
24 may get that long-promised big screen sequel yet
More Flowers in the Attic TV movies are coming
Rumor has it the 50 Shades sequel will star a Kardashian
The next Maze Runner is already in pre-production
See a (SFW) pic from the set of Magic Mike XXL
Lorde maybe teases her Hunger Games contribution
(Dawn of the Planet of the Apes spoilers ahead in this item.) We may not have seen the last of Koba. Asked about the possibility of his survival, director Matt Reeves admitted, "As we were mixing I was like I want to just leave one tiny Easter egg right at the end. I want to leave open the door just the tiniest crack." [M Time via Badass Digest]
Wesley Snipes is "set" to star in Blade IV, if a new rumor is to be believed. Though we should point out that's a pretty big "if." In the time since Blade: Trinity, the movie rights have reverted back to Marvel. So far, the studio hasn't shown any real signs of wanting Snipes back for the character. [NYDN]
Take heart MacGruber fans, you're not the only ones who want a sequel. Star Will Forte really wants to make one happen, too. "Jorma [Taccone] just sent an outline for MacGruber 2," he said. "I'm very excited because I feel like at some point, if somebody will let us do it, then we'll do it. But it's out of our hands. But we're writing it for sure." [Collider]
Captain Jack Sparrow may be headed down under. The Australian government has approved a $20.2 million incentive for Pirates of the Caribbean 5 to shoot there, though that's still short of what Disney wants. If the studio accepts anyway, it'll likely land in the northeastern state of Queensland. [THR]
Tom Cruise's globe-trotting Mission: Impossible franchise is headed to Morocco. Specifically, M:I5 will hit Casablanca, Marrakech, and capital city Rabat, shutting down a major highway for two weeks in the process. Cruise and others are already on location. [THR]
Eight years after Deadwood went off air, some people — like star Kim Dickens — still have their fingers crossed for a revival. Declaring she was still "heartbroken" about the end of the show, she revealed that creator David Milch "harbors a hope and he's always open to the possibility." [TV Line]
24 finally came back as a miniseries earlier this year, and now it could get resurrected again as a movie. Talks for a 24 movie have reportedly "gathered steam in recent weeks," though no one is officially confirming anything at this point. [TV Line]
Lifetime wants more Flowers in the Attic. The network has just greenlit a third TV film based on V.C. Andrews' series, If There Be Thorns, with Seeds of Yesterday likely to follow. Jason Lewis and Rachel Carpani will step in as the grown-up versions of Christopher and Cathy. Both films will air in 2015. [THR]
Could the 50 Shades of Grey sequel already have its first new star? Rumor has it Kendall Jenner has met with studio Universal about steamy sequel, months before the first film even opens. Apparently director Sam Taylor-Wood is "fascinated" by the Keeping Up with the Kardashians star. [Daily Mail]
Speaking of sequels for films that haven't opened yet, the Maze Runner sequel The Scorch Trials is already in pre-production, after entering development last year. "We've got stages, we've got crews coming in, Dylan [O'Brien] will be back in a few weeks, we're building sets, and the script is being written," said Maze Runner director Wes Ball. [Buzzfeed]
Magic Mike XXL is all about showing skin, but the first photo from the set isn't revealing at all. In the nudity sense or in the plot sense. Here it is from DP / camera operator / editor / definitely-not-director Steven Soderbergh.
[Twitter]
The Hunger Games: Mockingjay soundtrack curator Lorde may or may not be teasing her new song for the movie. She recently shared the following photo with the caption "first line."
If nothing else, now we all know she has excellent handwriting. [Instagram]