'The ABCs Of Death 2' Green-Band Trailer: Less Blood, Still Plenty Of Mayhem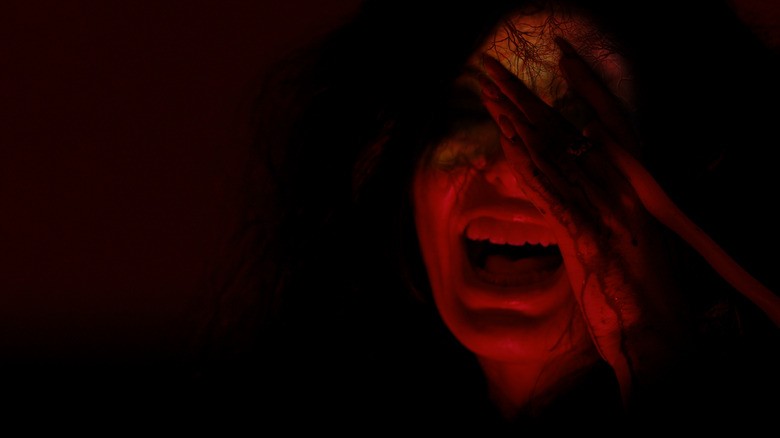 If you're the kind of person to be intrigued by The ABCs of Death 2, you're probably the kind of person that's okay with a little NSFW gore and violence. But just because you're cool with it doesn't mean everyone else is, so today we have an ABCs of Death 2 green-band trailer that you can enjoy with your whole family, office, or what have you.
As with the first ABCs of Death, The ABCs of Death 2 consists of 26 short films, each with a completely different director and storyline. This time, the crop includes Vincenzo Natali (Splice), Rodney Ascher (Room 237), E.L. Katz (Cheap Thrills), the Soska sisters (American Mary), and many more.
Watch The ABCs of Death 2 green band trailer after the jump.
While not nearly as gory as The ABCs of Death 2 red-band trailer, The ABCs of Death 2 green band trailer retains the same crazy, anything-goes energy. Like most anthologies, The ABCs of Death 2 is probably bound to be hit or miss, but with 26 separate films on offer I'm sure everyone will find something to love.
The ABCs of Death 2 opens October 2. Below are the official synopsis and the full list of directors.
ABCs of Death 2 is the follow-up to the most ambitious anthology film ever conceived with productions spanning from Nigeria to UK to Brazil and everywhere in between. It features segments directed by over two dozen of the world's leading talents in contemporary genre film. The film is comprised of twenty-six individual chapters, each helmed by a different director assigned a letter of the alphabet, beginning with the letter A and ending with the letter Z. The directors were then given free rein in choosing a word to create a story involving death. Provocative, shocking, funny and at times confrontational, ABCs of Death 2 is another global celebration of next generation genre filmmaking.
Julian Barratt (THE MIGHTY BOOSH)
Todd Rohal (THE CATECHISM CATALYSM)
Steven Kostanski (MANBORG)
Alejandro Brugués (JUAN OF THE DEAD)
Jim Hosking (commercial director)
Hajime Ohata (HENGE)
Chris Nash (SKINFECTIONS)
Rodney Ascher (ROOM 237)
Bill Plympton (Animator)
Erik Matti (ON THE JOB, MAGIC TEMPLE)
Kristina Buozyte and Bruno Samper (VANISHING WAVES)
Vincenzo Natali (SPLICE, CUBE)
Larry Fessenden (THE LAST WINTER, HABIT)
Julien Maury and Alexandre Bustillo (INSIDE, LIVID)
E.L. Katz (CHEAP THRILLS)
Jen and Sylvia Soska (AMERICAN MARY, DEAD HOOKER IN A TRUNK)
Aharon Keshales and Navot Papushado (RABIES, BIG BAD WOLVES)
Julian Gilbey (A LONELY PLACE TO DIE)
Dennison Ramalho (NINJAS and LOVE FOR MOTHER ONLY)
Lancelot Imasuen (Nollywood director)
Jerome Sable (THE LEGEND OF BEAVER DAM, STAGEFRIGHT)
Robert Morgan (BOBBY YEAH)
Robert Boocheck (HORRIFIC)
Juan Martinez Moreno (GAME OF WEREWOLVES)
Marvin Kren (RAMMBOCK BERLIN UNDEAD)
Soichi Umezawa (special makeup effects artist)