New 'Exodus: Gods And Kings' Featurette Highlights Epic Scale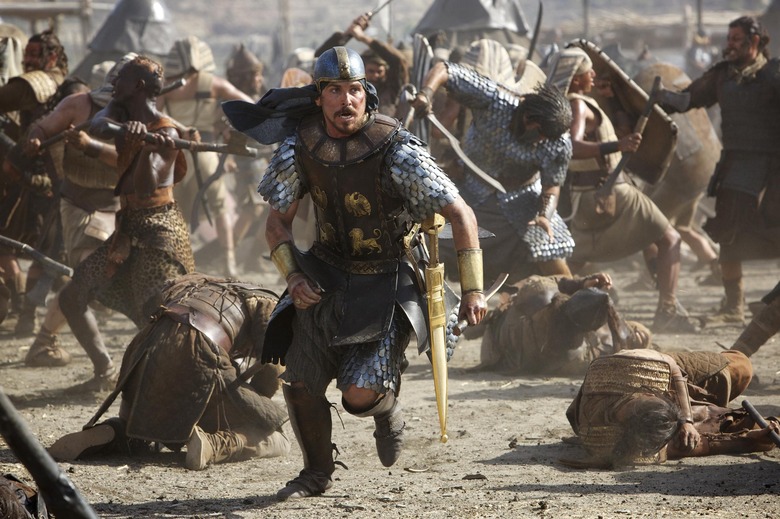 It's not hard to imagine why Ridley Scott would want to make Exodus: Gods and Kings. It's an epic tale for the ages, with plenty of opportunities to show off dazzling visuals and stunning performances. But if you want to hear Scott explain his attraction to the material in his own words, a new featurette has you covered.
The new video takes a peek behind the scenes of Exodus: Gods and Kings, highlighting the impressive scale of the project. Everything about this project looks massive — the sets, the cast, the scope of the story, even the racial controversy it has attracted. Check out the Exodus Gods and Kings behind the scenes featurette after the jump.
For Scott, what makes Exodus: Gods and Kings special is how big it is. "First of all it's epic in scale and second of all the Moses story was a massive challenge which I really love," he says in regard to his attraction to the project. According to Scott, the film required "at least 700 crew" and "4,000 extras."
But he seems just as interested in the smaller, more personal details of the Biblical tale. "I wanted to explore the complexity of this character," he said of Moses (played by Christian Bale). "The idea that [Moses and Joel Edgerton's Rhamses] were brothers and then rivals and then later go to war with each other was very interesting."
Exodus: Gods and Kings opens December 12. In addition to Bale and Edgerton, Sigourney Weaver, Ben Kingsley, John Turturro, Indira Varma, and Aaron Paul also star.
From acclaimed director Ridley Scott (Gladiator, Prometheus) comes the epic adventure "Exodus: Gods and Kings," the story of one man's daring courage to take on the might of an empire. Using state of the art visual effects and 3D immersion, Scott brings new life to the story of the defiant leader Moses (Christian Bale) as he rises up against the Egyptian Pharaoh Ramses (Joel Edgerton), setting 600,000 slaves on a monumental journey of escape from Egypt and its terrifying cycle of deadly plagues.