'The Humbling' Trailer: Al Pacino Embraces The Chaos Of Aging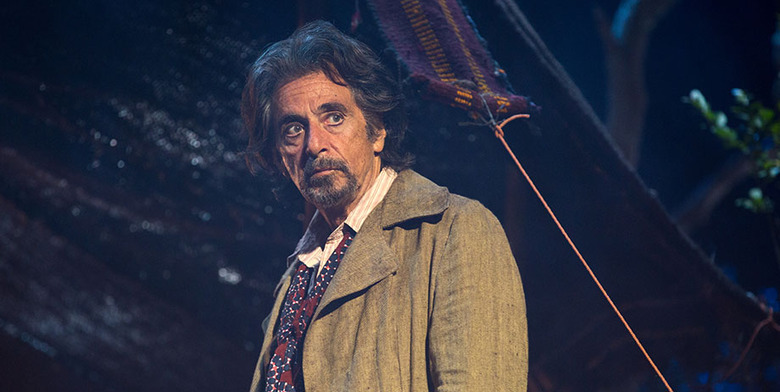 Al Pacino shows up in two big festival films this year: David Gordon Green's Manglehorn, and The Humbling from Barry Levinson. Here's a first The Humbling trailer, in which Pacino plays an aging actor who embarks upon an affair with a younger woman (Greta Gerwig) after he has a minor breakdown. OK, maybe not such a minor one.
If that sounds like it should really be Woody Allen material, keep in mind that the film is an adaptation of the novel by Philip Roth, who could almost be considered Allen's literary twin. Pacino picked up rights to the novel, reunited with Levinson, his You Don't Know Jack director, and got Buck Henry and Michal Zebede to script. Check out Pacino in the first The Humbling trailer below.
Deadline has the trailer. Kyra Sedgwick, Dianne Wiest, Charles Grodin, Dan Hedaya and Nina Arianda also star.
The Humbling just premiered at Venice, and will have its North American premiere soon at TIFF. Here's info from the TIFF write-up:
An aged and addled actor (Al Pacino) has his world turned upside down after he embarks upon an affair with a much younger woman (Greta Gerwig), in this acidulous adaptation of the Philip Roth novel from director Barry Levinson (Rain Man, Bugsy, Wag the Dog).
To devote one's life to acting is to live always in the space between reality and fiction. And as the life of Simon Axler (Al Pacino, also appearing at the Festival in Manglehorn) reaches its denouement, that space gets hazier with each passing day. Once a universally acclaimed thespian, the now-sexagenarian Simon has fallen from grace — literally. After swan-diving into the orchestra pit in the middle of a performance, he slides into an intense depression, and quite possibly dementia, leading to a spell in a psychiatric facility. Upon his release he agrees to continue therapy and swears that he is giving up acting. But Simon is always acting, always rating his "performance" in the theatre of everyday life. It's only when he finds himself in an unlikely affair with the much younger Pegeen (Greta Gerwig), the daughter of some old friends — and until now a lesbian — that Simon seems to be back in the moment. Or is he? If all the world's a stage, then Simon seems to be losing his grip on who's playing which role.