Secret Cinema Is Bringing 'Back To The Future' To Los Angeles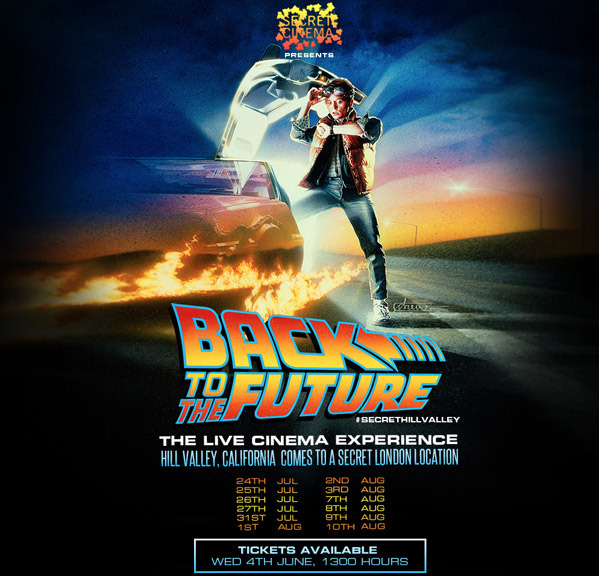 Normally, U.S. film fans have it pretty good. The events and festivals that take place between the Atlantic and the Pacific are pretty much unprecedented. There are rare exceptions, though, and one is Secret Cinema. The UK company plans movie experiences where you not only see a movie, you live it. For example, when UK fans went to see Back to the Future they did so in a full recreation of Hill Valley. Dozens of working stores, the school, the clock tower and 74 actors made the movie itself almost a secondary thing.
Well, it turns out the United States is getting that experience soon. Secret Cinema has revealed that they'll bring their Back to the Future screening to Los Angeles in 2015 to celebrate the 30th anniversary of the film.
The Hollywood Reporter broke this exciting news for U.S. and Back to the Future fans. There's no word on when specifically it'll happen or how much it'll cost, but tickets were pricey in the UK at $88.50. Here's an example of what the event looked like.
This will be part of Secret Cinema actually bringing their whole operation to the U.S. Much like the Mondo Mystery Movies that take place sporadically, Secret Cinema usually sells tickets to an event without audiences knowing what the film will be. You buy on their reputation, knowing they show awesome movies and present great events. The film in question isn't revealed until the last minute. While I have yet to do a Secret Cinema screening, I love the idea of this. It's a great example of how the communal experience can evolve to challenge home viewing.
We'll keep you updated as more information on both Secret Cinema and the Back to the Future LA screening take place. For more though, visit the SecretCinema website to read more about their past events.