Rumor: Amazon Reviving 'The Tick' TV Series, Patrick Warburton Returning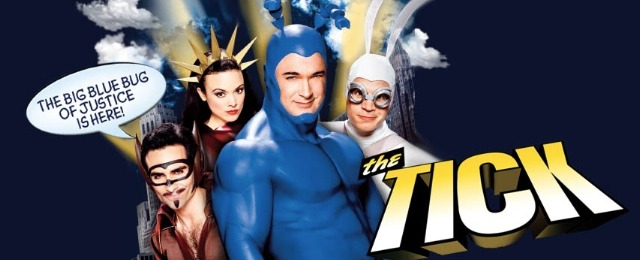 Late on a Friday before a holiday weekend is the worst time to fact-check anything, so we're in the position of praying this is true. A report says that Fox and Amazon have made a deal for Amazon to do a new live-action series based on Ben Edlund's The Tick. The show revolved around a giant, good-natured and bumbling hero played by Patrick Warburton. A spot-on blend of broad comedy and sharp satire, the show originally ran for only nine episodes on Fox from 2001 to 2002. Or, as Edlund once described it: "a superheroic portrait of genuine human lameness." The best news: Edlund and Warburton will both be part of The Tick revival.
People says "superhero parody is now being revived on Amazon" and that Warburton "recently inked a deal with Amazon and Sony to reprise his role, with Edlund producing and writing."
The Tick was slightly ahead of its time — it was a strange, smart show that both embraced and parodied superhero stories. It fell victim to the same Fox regime that botched the broadcast of Firefly; a year before Whedon's show was on air, Fox aired episodes in an unpredictable pattern, often with little promotion. The show never had a chance to find an audience.
I just had a conversation about this show on Twitter a few days ago, saying that I'd absolutely love to see The Tick return to air with the cast as they were then, but with TV creatives and the landscape we have now. If this deal works out, it would be just about the closest possible thing to that wish coming true. I'm shocked, frankly.
Presumably Barry Sonenfeld and Larry Charles, who produced the original show, will not be part of the new iteration.
Here's the original pilot, which finds the show not quite as 100%, but will get the idea across:
From the Amazon description of the DVD release of all the original episodes:
In the title role, Warburton (with highly expressive antennae) hits all the right notes of dimwitted innocence and brute-force gallantry, aided immeasurably by his moth-costumed sidekick Arthur (David Burke), wannabe lothario Batmanuel (Nestor Carbonell), and buxom beauty Captain Liberty (Liz Vassey). Attentive to the more mundane aspects of superheroism, The Tick offers outrageous villains (like the nefarious "Destroyo") and eccentric allies (like Ron Perlman's hilarious "Fiery Blaze") while showing that even crimefighters have everyday problems and desires. Brilliantly conceived and executed, The Tick can now be enjoyed by an audience it never had a proper chance to cultivate.