Star Wars Bits: More Plot Rumors, Star Wars Rebels Episode Titles, J.J. Abrams On Set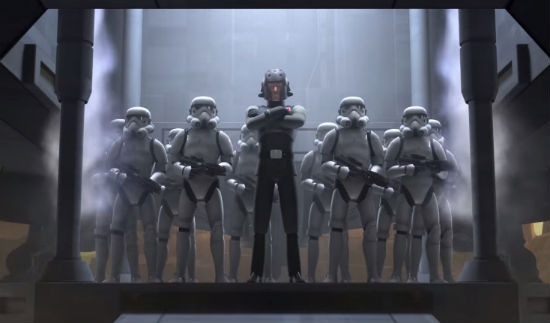 Want more Star Wars Bits? We've got more Star Wars Bits. It starts with some big time Star Wars Rebels updates and ends with some potentially massive Episode VII spoilers. (Don't worry, they're well hidden.) Below, read about the following:
Watch three new commercials from Star Wars Rebels.
Here are the top 10 fights in Star Wars, according to Lucasfilm.
Read Dave Filoni's foreword to Star Wars: A New Dawn.
The titles of the first episodes of Star Wars Rebels has been revealed.
J.J. Abrams talks Apollo 11 from the set of Star Wars Episode VII.
Latino Review drops some potentially major Episode VII spoilers.
The Star Wars YouTube posted three new Star Wars Rebels commercials recently. You can watch all three in a row below.
The fine folks at Lucasfilm posted the below video as well, which is a rank of the top 10 fights in the history of Star Wars. Do you agree?
Star Wars: A New Dawn is the first book released from the Lucasfilm Story Group, meaning it's the first piece of new canon released under Disney. It's a Star Wars Rebels prequel and includes a foreword by Dave Filoni. Head here to read the whole thing, but this is an excerpt:
A New Dawn is a result of this method of story collaboration here at Lucasfilm. As executive producers of Star Wars Rebels, Greg Weisman, Simon Kinberg, and I had input on the story and characters, working with author John Jackson Miller. I even got to make comments on the look of Kanan and Hera for the cover—maybe a small detail to some, but it was exciting to be a part of that process, and to know the characters would remain true to their intended design. I really hope you enjoy this story, and that it enriches your experience and knowledge of the characters in Star Wars Rebels. There are still countless worlds to visit, countless aliens to meet, and with the incredible talent we have coming to work at Lucasfilm the way forward looks clear.
Rebels Report lists the writers, directors and titles for the first six episodes of Star Wars Rebels. No big huge revelations but some interesting stuff. Head there to read them.
A few months back (as pointed out by SW7 News) J.J. Abrams talked about his memories regarding Apollo 11. That's cool in itself, but what's cooler than that is he did it from the set of Episode VII. Check it out.
Finally, Latino Review's latest S7ar Wars column is out, and in it there are a few major bombshells. They could all be considered spoilers, some very major, so if you don't want to read. Leave now.
SPOILER WARNING LEVEL 1
First up, the column plainly states that "Domhnall Gleeson is not playing Luke's son." They don't know who he's playing, but they seem sure about that one point.
SPOILER WARNING LEVEL 2
They also have some thoughts on the location shoot at Skelling Michael in Ireland. The crew filmed there a few weeks ago but will reportedly be going back in November (they'll still be shooting in November?!?) when it looks much different. That leads LR to believe the location is being used as the Sith Homeworld and, quite possibly, a link to a new major weapon. Sort of this trilogy's Death Star. That sounds pretty plausible as it would up the ante from the original trilogy. The article also gets more into it (and contextualizes that leaked image of the villain) but I don't want to go too deep here. Head there to read it.