Legal Setback Could Push Comic-Con Out Of San Diego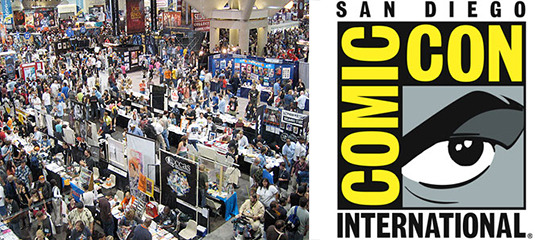 San Diego Comic-Con keeps getting bigger, but San Diego does not. While some new hotels have gone up in the past several years, the convention center itself, and of course the city around it, has stayed the same size. Two years ago, amid bids from several other major cities, the convention signed a contact to stay in San Diego through 2016. That, however, was based heavily on an expected proposal to expand the convention center. That proposal was rejected earlier this month and then an appeal was voted down this week, pretty much killing any chance of an expansion. So where does that leave Comic-Con? Read more below about the potential for Comic Con moving.
The Hollywood Reporter wrote about the latest blow to the convention. Here's the quick summary:
The ruling, passed down from the Fourth District Court of Appeal earlier this month, struck down a proposed levy on hotels in the area around the San Diego Convention Center — a levy which was relied upon to foot much of the projected $520 million cost of the planned expansion for the Convention Center. On Tuesday, the San Diego City Council decided not to appeal the ruling, leaving the future of the expansion project in doubt.
So basically, they had an idea to raise the $520 million needed to expand the Convention Center by putting a tax on area hotels. That was killed earlier this month. Then, this week, they decided not to appeal.
So what's next? Comic-Con is locked into San Diego until 2016 so it'll be there at least until then. After that, you can bet cities like Anaheim, Los Angeles and Las Vegas will make bids for the convention, which brings about $180 million to the city every year.
Being a long time Comic-Con attendee, I have two conflicting feelings on this. The first being the convention center is too small for the Con. The lines are indescribable, the crowding is uncomfortable and it's very hard to get from point A to point B. On the other hand, the center is perfectly situated in the heart of the city. That means there's a great atmosphere, an insane amount of restaurants, nightlife and oppurtunites for activities. It's also right next to mass transportation. Other cities – such as LA, Anaheim and even Vegas, can't offer that contained sense of community.
We'll see what happens in the coming years, but for now, do you think Comic Con will stay in San Diego?