Watch: The History Of JJ Abrams' Abandoned Superman Movie 'Superman Flyby'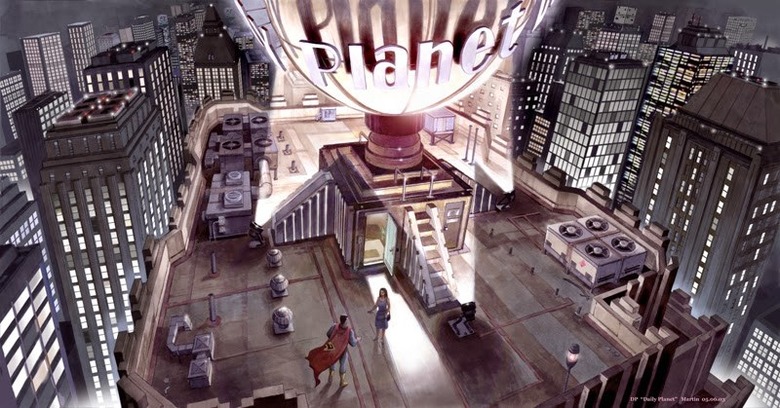 In 2002 Warner Bros was developing a new Superman movie with then screenwriter JJ Abrams called Superman: Flyby, with Brett Ratner hired to direct. Abrams' screenplay for the film would have reinvented Superman, incorporating a bunch of new ideas that angered fans when a negative script review was posted on the internet. The film was abandoned and never went into production. Mr. Sunday Movies has created a video essay giving the complete history of Superman Flyby. Watch that now after the jump.
The following Mr. Sunday Movies video essay on the history of Superman Flyby was found on Io9:
Brett Ratner was originally hired to direct in September 2002, and film production was scheduled to begin in late 2003. Here are some of the plot details from Wikipedia:
Turning in his script in July 2002, J. J. Abrams' Superman: Flyby was an origin story that included Krypton besieged by a civil war between Jor-El and his corrupt brother, Kata-Zor. Before Kata-Zor sentences Jor-El to prison, Kal-El is launched to Earth to fulfill a prophecy. Adopted by Jonathan and Martha Kent, he forms a romance with Lois Lane in the Daily Planet. However, Lois is more concerned with exposing Lex Luthor, written as a government agent obsessed with UFO phenomena. Clark reveals himself to the world as Superman, bringing Kata-Zor's son, Ty-Zor, and three other Kryptonians to Earth. Superman is defeated and killed, and visits Jor-El (who committed suicide on Krypton while in prison) in Kryptonian heaven. Resurrected, he returns to Earth and defeats the four Kryptonians, while the script ends with Superman off to Krypton, leaving a cliffhanger for a sequel.
Screenwriter JJ Abrams has described his vision for Clark Kent and the character's transition from alien child into a hero:
"The thing that I tried to emphasise in the story was that if the Kents found this boy, Kal-El, who had the power that he did, he would have most likely killed them both in short order. And the idea that these parents would see – if they were lucky to survive long enough – that they had to immediately begin teaching this kid to limit himself and to not be so fast, not be so strong, not be so powerful. The result of that, psychologically, would be fear of oneself, self-doubt and being ashamed of what you were capable of. Extrapolating that to adulthood became a fascinating psychological profile of someone who was not pretending to be Clark Kent, but who was Clark Kent. Who had become that kind of a character who is not able or willing to accept who he was and what his destiny was. The idea in the movie was that he became Superman because he realised he had to finally own his strength and what he'd always been. I don't know if that's what Zack and Chris [Nolan] are doing, but it looks like that's part of the idea and I could not be more thrilled to see that movie. That to me was always the way to go."
The full script is available online. As for casting, Josh Hartnett and Jude Law, Paul Walker, Ashton Kutcher, Brendan Fraser, David Boreanaz, Victor Webster, James Marsden and Matthew Bomer were all reportedly approached for the role. Ratner wanted two of his Red Dragon cast members Anthony Hopkins and Ralph Fiennes cast as Jor-El and Lex Luthor, Christopher Walken was in talks to play Perry White and Joel Edgerton auditioned for Ty-Zor.
In the end, Ratner dropped out of the project in March 2003 blaming casting difficulties and claimed disagreements with producer Jon Peters. Screenwriter JJ Abrams lobbied to direct based on his own script but Warner Bros instead hired McG, who commissioned Josh Schwartz to rewrite the Abrams script. which might have seen Robert Downey Jr as Lex Luthor and Selma Blair or Scarlett Johansson as Lois Lane.
McG eventually dropped out of the project over a disagreement over shooting location. He wanted to shoot in North America, which would have cost about $25 million more than Warner Bros' preferred Australian shoot. McG publicly said that "it was inappropriate to try to capture the heart of America on another continent", but later admitted his fear of flying was really to blame.
And we all know what happened in the end, Warner Bros hired Bryan Singer and the resulting completely reimagined film was titled Superman Returns.