VIDEO: Bill Hader's List Of 200 Essential Comedy Movies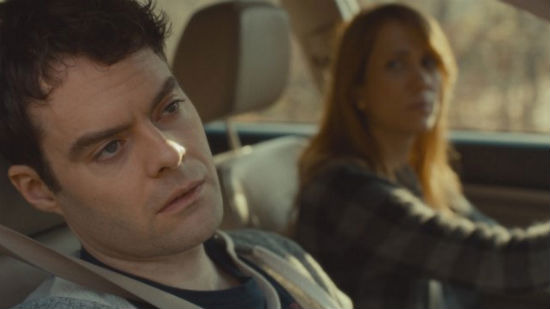 We may receive a commission on purchases made from links.
A spin around the TV dial is almost guaranteed to turn up at least one appearance by Bill Hader. Whether it be his memorable stint on Saturday Night Live, smaller film roles in Judd Apatow comedies, leading roles in Greg Mottola comedies, adding voices to Edgar Wright movies, writing South Park episodes, or a commercial for his wonderful new drama The Skeleton Twins, Hader seems to be everywhere. And that's a good thing. The guy is talented and funny, and a huge film fan.
In the book "Poking a Dead Frog: Conversations With Today's Top Comedy Writers" by Mike Sacks, Hader contributed his own list of "200 Essential Movies Every Comedy Writer Should See." It pretty safe to say, though, you don't have to be a comedy writer to appreciate these gems. Some are obvious, some not, but it's a fun list even just as a jumping off point for a debate.
Below, check out the list of Hader's 200 Essential Comedies and even watch him talk about it.
The list originated in Sacks' book, which you can grab here, via XO Jane and The Dissolve. Below the list are some videos from a talk Sacks had with Hader in New York where he not only talks about the list, but movies in general including working in a New York movie theaters in the Nineties.
Bill Hader Favorite Comedies (Alphabetical Order)
Abbott and Costello Meet Frankenstein (1948)
The Adventures of Baron Munchausen (1988)
An American in Paris (1951)
Arsenic and Old Lace (1944)
Back to the Future (1985)
The Bad News Bears (1976)
Big Deal on Madonna Street (1958)
The Blues Brothers (1980)
Boudu Saved from Drowning (1932)
Broadway Danny Rose (1984)
Bullets Over Broadway (1994)
A Clockwork Orange (1971)
Closely Watched Trains (1966)
Crimes and Misdemeanors (1989)
A Day at the Races (1937)
Dazed and Confused (1993)
Dirty Rotten Scoundrels (1988)
Ferris Bueller's Day Off (1986)
The Firemen's Ball (1967)
A Fish Called Wanda (1988)
Hail the Conquering Hero (1944)
The Hudsucker Proxy (1994)
I Wanna Hold Your Hand (1978)
I'm Gonna Git You Sucka (1988)
It Happened One Night (1934)
It's Always Fair Weather (1955)
The Kentucky Fried Movie (1977)
The King of Comedy (1983)
The Lavender Hill Mob (1951)
The Life Aquatic with Steve Zissou (2004)
The Life and Death of Colonel Blimp (1943)
The Man in the White Suit (1951)
The Man with Two Brains (1983)
A Matter of Life and Death (1946)
The Miracle of Morgan's Creek (1944)
Monty Python and the Holy Grail (1975)
Monty Python's Life of Brian (1979)
Mr. Hulot's Holiday (1953)
National Lampoon's Animal House (1978)
Never Give a Sucker an Even Break (1941)
A Night at the Opera (1935)
The Palm Beach Story (1942)
Pee-wee's Big Adventure (1985)
The Princess Bride (1987)
The Royal Tenenbaums (2001)
Ruggles of Red Gap (1935)
The Shop Around the Corner (1940)
Singin' in the Rain (1952)
Songs from the Second Floor (2000)
South Park: Bigger, Longer & Uncut (1999)
The Squid and the Whale (2005)
Stranger Than Paradise (1984)
Sullivan's Travels (1941)
Take the Money and Run (1969)
Talladega Nights: The Ballad of Ricky Bobby (2006)
Team America: World Police (2004)
This is Spinal Tap (1984)
To Be or Not to Be (1942)
Trouble in Paradise (1932)
Unfaithfully Yours (1948)
Waiting for Guffman (1996)
Wet Hot American Summer (2001)
What's Up Tiger Lily? (1966)
You Can't Cheat an Honest Man (1939)
You Can't Take It with You (1938)
Young Frankenstein (1974)
And here are the videos.