Shane Black's 'The Nice Guys' With Russell Crowe And Ryan Gosling Set For Summer 2016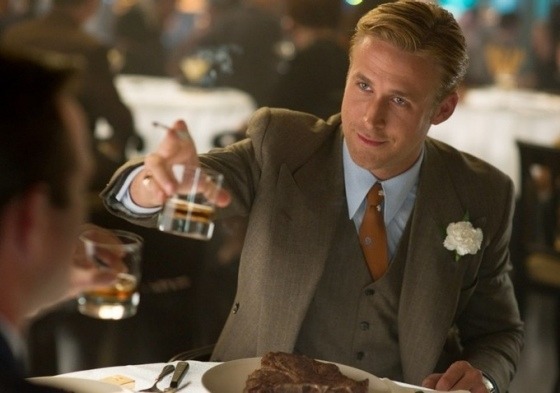 The last time writer/director Shane Black and producer Joel Silver worked together, the result was the very funny neo-noir Kiss Kiss Bang Bang, which helped re-launch the career of Robert Downey, Jr. After festival appearances the film was given a low-profile fall rollout by Warner Bros., and it flew under the radar of most moviegoers.
Back and Silver's next film, The Nice Guys, will probably fare a bit different. Warner Bros. also has the distribution rights to the new picture, and it has locked Ryan Gosling and Russell Crowe as stars to play a private detective and muscle-for hire, respectively, who are drawn into a massive conspiracy while tackling seemingly separate cases. Now the film has a summer 2016 release date, which means it is really on.
Deadline reports that The Nice Guys will open on June 17, 2016, opposite Finding Dory and How to Train Your Dragon 3. (Update: Dragon 3 has now been pushed into 2017.)
Black scripted The Nice Guys a couple years back with Anthony Bagarozzi. Here's the plot:
In smoggy 1970s Los Angeles, Jackson Healy (muscle-for-hire, recovering alcoholic) and Holland March (private eye, practicing alcoholic) are brought together by the suicide of a fading porn star. Problem is, the dead girl's aunt is convinced she saw her niece alive and well, AFTER the highly publicized incident. March needs money, takes the case-and within days, it's blossomed into a far-reaching murder conspiracy, bizarrely rooted in smog and the U.S. auto industry.
This is just one of a few films Black has been prepping. There's the new Predator film, which he's working on with Fred Dekker, and then the Doc Savage movie he's had simmering at Sony for a while, which is joined by the new Destroyer adaptation also at Sony. As a director, Black has hardly been prolific, but the success of Iron Man 3 has been helping him get movies deep into development. If The Nice Guys is set for 2016, there's room for Black to shoot another movie beforehand... at least if it moves quickly.
Here's the official press release:
Silver Pictures' upcoming detective thriller "The Nice Guys," directed by Shane Black ("Iron Man 3") and starring Oscar winner Russell Crowe ("Gladiator," "Man of Steel") and Oscar nominee Ryan Gosling ("Half Nelson," "Drive"), has staked out the summertime date of June 17, 2016. Set to begin production in the fall of this year, the film is being produced by Joel Silver ("Non-Stop," "The Matrix" series, the "Sherlock Holmes" series). The announcement was made today by Dan Fellman, President of Domestic Distribution, Warner Bros. Pictures.
"The Nice Guys" takes place in 1970s Los Angeles, when down-on-his-luck private eye Holland March (Gosling) and hired leg-breaker Jackson Healy (Crowe) must work together to solve the case of a missing girl and the seemingly unrelated death of a porn star. During their investigation, they uncover a shocking conspiracy that reaches up to the highest circles of power.
Silver stated, "Ever since we did 'Kiss Kiss Bang Bang,' I've been eager to work with Shane again, and with this film we made it happen. It's a terrific script written in Shane's great cinematic voice. With Russell and Ryan on board, I know we're in for another wild ride."
Black directs from an original screenplay he wrote with Anthony Bagarozzi. Silver is producing under his Silver Pictures banner, with Ken Kao of Waypoint Entertainment, Hal Sadoff, and Michael Malone serving as executive producers. Waypoint is co-financing, and Alex Walton and Ken Kao's BLOOM is handling international sales.
"The Nice Guys" will be distributed in North America by Warner Bros. Pictures, a Warner Bros. Entertainment Company.