Ricky Gervais Calls His Upcoming David Brent Movie "Almost A Musical"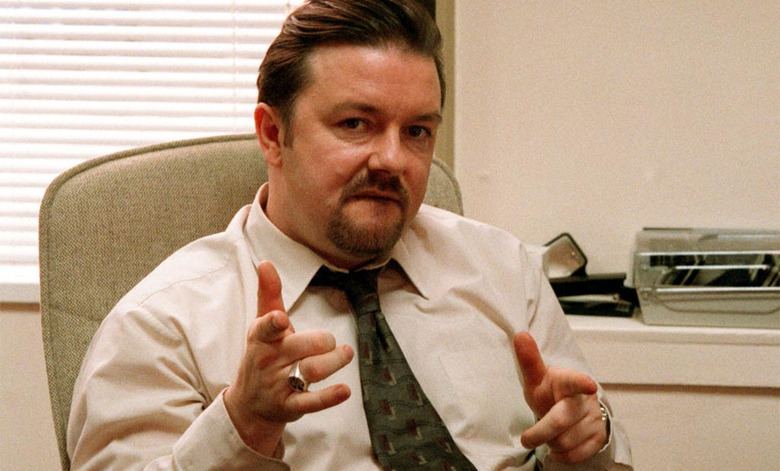 Ricky Gervais has revealed some new details on his Office spinoff movie, Life on the Road, and it'll be music to the ears of fans.Life on the Road is a mock-documentary that'll revolve around David Brent, the character Gervais played on The Office. It'll catch up with the former office manager a few years after the show's conclusion as Brent continues his quest to become a rock star. That much we already knew.
Last week, the comedian/writer/director was on Sirius XM's Opie and Jim Norton show and described the film as "almost a musical." He's currently writing songs and the script for the film with the hopes to have it in theaters in the next 18 months to two years. Read more about the David Brent movie below.
Here's what Gervais said about the David Brent movie, Life on the Road, on the Opie and Jim Norton (formerly Opie and Anthony) show:
Yeah I'm gonna do it. It's really different. It's another fake documentary about what he's doing now and what he's doing now is sort of repping. But he hasn't let go of this dream of being a rock star and he's got a lot of songs together and he's got a young band together that he's paying through the nose for and they're just sort of ripping him off. They're sort of session musicians so he's losing money. He has to cash in a pension, he does a little tour he wants the record companies to come along too. Obviously he thinks it's like Scorsese following the Rolling Stones around, this documentary team, but it's really sort of a Where Are They Now documentary and it's even sadder and tragic....I'm trying to do like Anvil did for real. It was sort of sweet and tragic....He's doing songs, it's almost a musical, really.
Gervais then hinted it would mostly take place in England by joking "Life on the Road 2" would see Brent in America. Next he was then asked for a timeline:
I'm writing it now, I'll probably film it...it'll be next year, now. We're talking 18 months to two years again.
Finally, he was asked about the release plan:
It's got cult movie written all over it but it'll have a theatrical release around the world because The Office, the original one, played in about 100 countries. So it can certainly have a theatrical release around the world. But were not talking "blockbuster." We're probably talking an under 10 million dollar movie. I'm not making a Hobbit movie here.
As a die hard fan of The Office, the initial news of this film was incredibly exciting. These further details, that this is a faux-rockumentary with Brent at the center, is almost too good to be true. Surely we'll hear more about it next year once production begins and hopefully some of the original Office cast members appear as well.
What do you think about this update on the David Brent movie?