Early Buzz: Alejandro González Inarritu And Michael Keaton Wow Audiences With 'Birdman'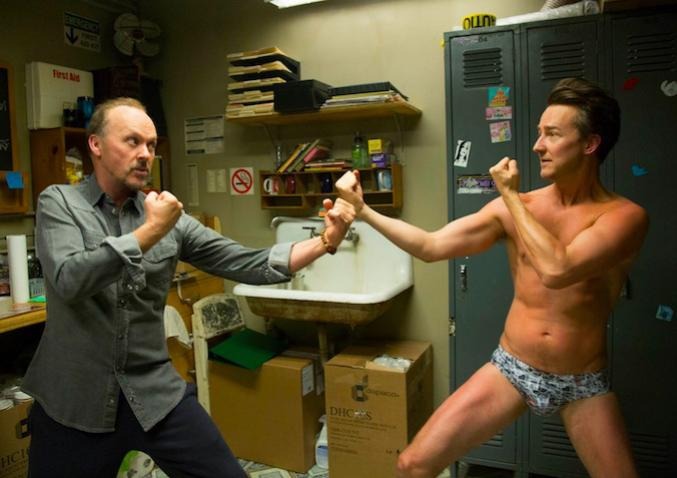 When we heard Michael Keaton was doing a new superhero movie, everyone got interested. When we heard he'd be joined by Zach Galifianakis, Edward Norton, Amy Ryan, Emma Stone and Naomi Watts, the film became anticipated. Then we heard it would be directed by Alejandro González Inarritu, in one single take, it became one of our most anticipated films of the year. (That trailer didn't hurt either.)
Now that film, Birdman, is out there. It had its premiere at the Venice Film Festival and the reviews were overwhelmingly, almost embarrassingly positive. Read some early Birdman reviews below.
Here are some excerpts from Birdman reviews.
A blisteringly hot-blooded, defiantly anti-formulaic look at a has-been movie star's attempts to resuscitate his career by mounting a vanity project on Broadway. In a year overloaded with self-aware showbiz satires, Alejandro G. Inarritu's fifth and best feature provides the delirious coup de grace — a triumph on every creative level, from casting to execution, that will electrify the industry, captivate arthouse and megaplex crowds alike, send awards pundits into orbit and give fresh wings to Keaton's career.
Birdman flies very, very high. Intense emotional currents and the jagged feelings of volatile actors are turned loose to raucous dramatic and darkly comedic effect in one of the most sustained examples of visually fluid tour de force cinema anyone's ever seen, all in the service of a story that examines the changing nature of celebrity and the popular regard for fame over creative achievement. 
"Birdman" (or "The Unexpected Virtue of Ignorance" – the alternate title resolves satisfyingly in the film) proves to be a sparkling tonic to [Inarritu's] life-is-hideous trilogy ("21 Grams", "Babel" and "Biutiful") containing a bitter shot of gin, calculated to give industry egos a knowing but energizing kick in the pants.
It's also a technically superlative exercise (as was last year's Venice opener "Gravity"). The much-vaunted single-take effect achieved by DP Emmanuel Lubezki and editors Douglas Crise and Stephen Mirrione (with a couple of exceptions the film appears to play without cuts) is not a gimmick, but a storytelling technique that achieves an arguably superior effect to that realized by Alfred Hitchcock in "Rope." Where "Rope's" apparent single take ended up feeling a little stagy, as if the original play was being filmed live, "Birdman" is alive in every frame – the effect is of staying up several days in a row, watching the sunrise and carrying on, events slurring together with strung-out nervous energy. 
Hubristic, humble, heartfelt and hotheaded, "Birdman or (The Unexpected Virtue of Ignorance)" is phenomenal. The feverishly anticipated (not least by us) movie from Alejandro González Iñárritu blasted through its Venice premiere (it's the opening film) in a giddy, gonzo rush —so exciting, so moment-to-moment enjoyable that to expect profundity would be greedy. And yet it delivers on that level as well; the film is as thoughtful and smart as it is infectiously absurd. And that's perhaps the biggest surprise of an endlessly surprising, inventive movie: whatever the sum of its parts, like how it launches and completes the "Keatonnaissance" in one fell swoop, or the incredible camerawork that is imperceptibly stitched together into (mostly) one long, seemingly cutless take, "Birdman" adds up to more. It's borderline miraculous.
What the film ultimately talks about, however, is more rich and profound that Iñárritu's earlier works, dealing with issues of art, artistry and why we create. That Iñárritu has done so with a multi-layered script is a thing of wonder in itself, but the perfect physical precision with which he has done so – his restless camera takes us into every peeling nook and cranny of the theatre, until its dank corridors become as familiar as home – is a miracle. The ending will baffle or delight, but like the rest of the film it is uncompromising, a true throwback to the '70s – Alan Arkin's Little Murders springs to mind – a time when surrealism and abstraction weren't alien terms and people watched Batman for laughs.
And Deadline has a few pieces on the overall reception and thoughts of stars and filmmakers.