'Gone Girl' TV Spot Pegs Ben Affleck As A Potential Murderer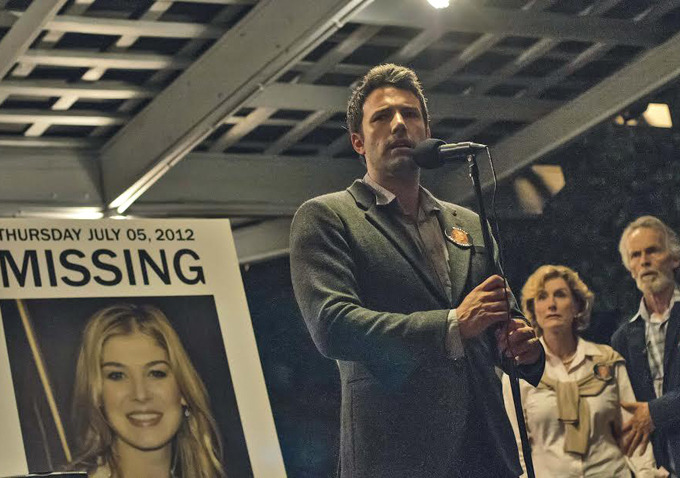 Ben Affleck knows a thing or two about negative PR, but even his Gigli-era troubles have nothing on Nick Dunne's. The latest Gone Girl TV spot stacks the deck against Nick, pegging him as the prime suspect in the disappearance of his beautiful wife Amy (Rosamund Pike).
Of course, if the case were that straightforward there'd be no movie for David Fincher to make. Fortunately, as those who've read Gillian Flynn's book know, he'll have plenty of twists and turns to work with before reaching the ugly conclusion. Hit the jump to watch the new Gone Girl TV spot.
To be fair to Nick, not knowing your wife's blood type hardly seems suspicious. I'm only half-sure of my own blood type, let alone my significant other's. No, it's the creepy smile, the increased life insurance policy, and Amy's fearful voiceover narration that make him look guilty.
Affleck really is perfect casting as Nick. He's handsome and charismatic enough that we don't question why Amy hooked up with him in the first place, but dark enough to seem plausible as a killer. (In the movies, I mean. I am not accusing Affleck of being a murderer in real life.) And Pike seems more than capable of holding her own against him, as a complicated woman with some secrets of her own.
Gone Girl comes to theaters October 3.
GONE GIRL – directed by David Fincher and based upon the global bestseller by Gillian Flynn – unearths the secrets at the heart of a modern marriage. On the occasion of his fifth wedding anniversary, Nick Dunne (Ben Affleck) reports that his beautiful wife, Amy (Rosamund Pike), has gone missing. Under pressure from the police and a growing media frenzy, Nick's portrait of a blissful union begins to crumble. Soon his lies, deceits and strange behavior have everyone asking the same dark question: Did Nick Dunne kill his wife?