Neil Marshall Would "Love" To Make A Black Widow Movie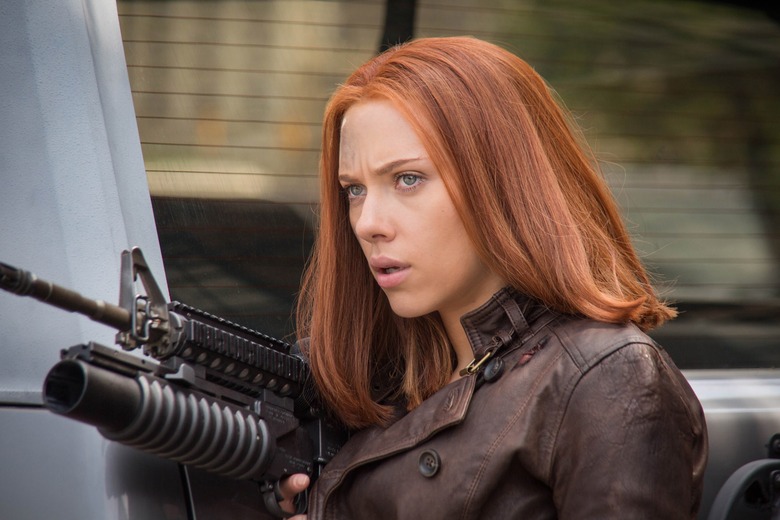 There's no shortage of fans who want to see a Black Widow movie, and now we know of at least one qualified person who wants to make one. Game of Thrones director Neil Marshall declares that he'd "love to do a Black Widow movie," describing the Marvel heroine as "fascinating." Hit the jump for more of his comments.
I would love to do a Black Widow movie. That's perfect, I would love to do that. That character is really interesting, she doesn't have any superpowers, she just has extraordinary skills, and the world that she comes from, being this ex-K.G.B. assassin, I find that really fascinating, yeah.
Unlike some of her Avengers teammates, Scarlett Johansson's Black Widow isn't gifted with any superhuman powers. But Marshall says that's what he likes about her.
I think I'd like to do a big movie with a strong female lead, whether or not she would be a superhero. [...] I'm less interested in people with superpowers because I can't identify with them. Very rarely do they get killed off, and when they do get killed off, chances are they're going to be back... somehow. Yes, I'd love to do a big splashy movie with a great female lead, but it has to be someone I can believe in.
We should point out here that within the Marvel Cinematic Universe, even people without superpowers have a way of getting un-killed. But we agree wholeheartedly that Black Widow is someone we can "believe in," so we won't argue with the rest of his explanation.
Although Marshall hasn't directed a Marvel movie, he seems like just the studio's type. Like Thor: The Dark World director Alan Taylor, he's gotten a lot of attention for his work on Game of Thrones. He has several feature film credits, including The Descent and Centurion, but hasn't yet achieved household name status. He even has superhero experience — he helmed the pilot for NBC's Constantine, based on a DC Comics character.
But just because hiring Taylor to make a Black Widow movie makes sense on paper doesn't mean it'll happen in real life. Marvel Studios has definitely considered the possibility of a Black Widow movie, as recently confirmed by Guardians of the Galaxy writer Nicole Perlman, but as far as we know it's not in active development right now.
In fact, as of now Marvel Studios has not indicated any concrete plans to make a female superhero movie, though Kevin Feige has spent years hemming and hawing when asked about the possibility. Meanwhile, Johnasson herself has plenty of other stuff to keep her busy at the moment, including the impending birth of her first child.