'Bond 24' Casting Call Reveals Villainous Details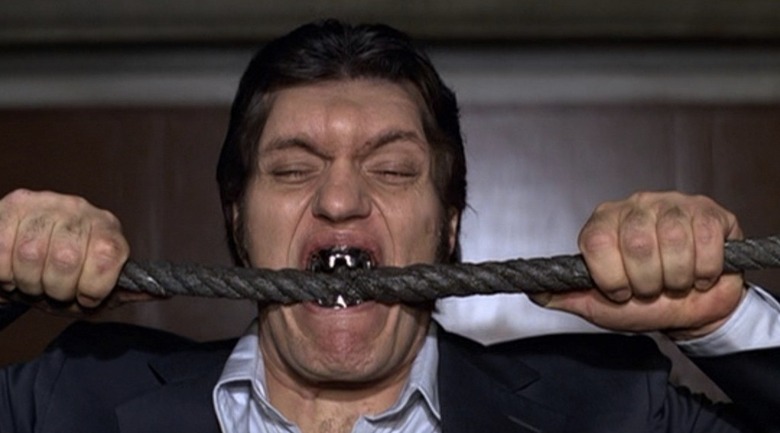 Details on Bond 24 are being kept under very tight wraps, but when a film is as feverishly anticipated as this one is, clues have a way of getting out. A new casting call is the source of the latest update, which suggests Bond 24 will star an "iconic" baddie in the vein of Jaws (The Spy Who Loved Me, Moonraker) or Oddjob (Goldfinger). Hit the jump for details on the new Bond 24 villain.
We are looking to follow in the tradition of JAWS and ODDJOB in finding an iconic baddy.
Hinx (Male, 30 – 45)
Ideally over 6? 2?. Hinx is the main henchman/assassin. We are looking for an imposing extremely physically fit actor. He has several fights with Bond and will have to have stunt training. He has to drive. We are looking for someone very unusual, possibly from a sports background.
Height: 180cm – 195cm
Bond 24 hasn't begun shooting yet and there's still time to adjust some of the details. So what's on the casting call may not be exactly what we get in the final product. The name "Hinx" could change, for example. But the report does suggest that the Bond 24 filmmakers are looking back to help them move forward. We may get a bit of a retro feel in the next outing.
Like Bond girls, gadgets, and martinis, eccentric villains are a staple of the 007 franchise. But Sam Mendes and company have their work cut out for them if they're looking to create an instantly iconic Bond villain. His long and tangled history includes so many colorful creeps already, including the aforementioned Oddjob and Jaws. 
Heck, it'll be tough just to top Bond's last nemesis, the deliciously charismatic Silva (played by Javier Bardem). But kudos to them for trying. No Bond movie would feel quite right without an over-the-top weirdo terrorizing our hero.
Bond 24 starts filming this winter for a November 6, 2015 release.