People Are Already Finding Easter Eggs In 'Ant-Man'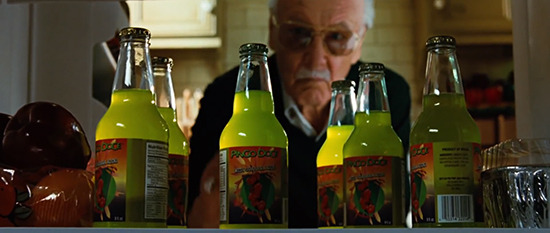 Ant-Man has only been shooting for a week, and fans are already finding easter eggs in the movie, thanks to on-set pictures. The photos don't show any actual spoilers yet — most simply catch star Paul Rudd walking down the streets of San Francisco — but a couple have an interesting piece of set decoration in the background. The images in question tie Ant-Man to the film that is sort of an outlier in the Marvel Cinematic Universe: 2008's The Incredible Hulk.
The last standalone Hulk film was a Marvel Studios production, even it was released by Universal and the Hulk was eventually re-cast for The Avengers. In the 2008 film, Bruce Banner (played by Ed Norton) hides out in Brazil, working in a soft drink bottling plant. There, he cuts himself, and his blood drips into one of the bottles. A guy in the US, played by Stan Lee, drinks the soda. Here's Lee's scene:
Now, Superhero Hype has posted a set pic that features an ad for the same soda. We can't post the pic here, but this is it.
So what does this mean? In a grand sense, perhaps nothing, other than that the two stories take place in the same world. This stuff might not be the Coke of the MCU, but maybe it's more like the Mountain Dew Code Red, just prevalent enough to be featured on posters plastered around major US cities. And we know that Marvel likes easter eggs (just check out our collection of stuff from Guardians of the Galaxy) so this is probably just one of many small things to be found in Ant-Man.
Ant-Man will be released on July 17, 2015. Peyton Reed directs; the film also stars Michael Douglas, Evangeline Lilly, and Corey Stoll.
Armed with the astonishing ability to shrink in scale but increase in strength, con-man Scott Lang (Paul Rudd) must embrace his inner-hero and help his mentor, Dr. Hank Pym(Michael Douglas), protect the secret behind his spectacular Ant-Man suit from a new generation of towering threats. Against seemingly insurmountableobstacles, Pym and Lang must plan and pull off a heist that will save the world.