'Whiplash' International Trailer Only Hints At J.K. Simmons' Brutal Dialogue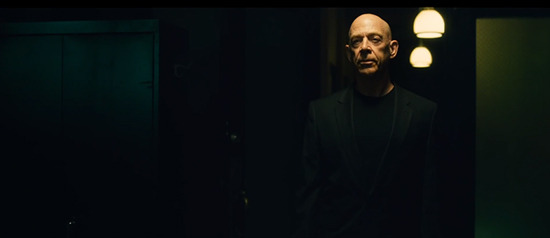 As the domineering music conservatory teacher at the center of Whiplash, J.K. Simmons spews vile, mean, even brutal dialogue. Most of it is aimed at the the young drummer and would-be jazz great played by Miles Teller. Is the teacher just using a bit of old-school motivation, or is he really out of his mind? The guy's propensity to throw things suggests the latter, but the student isn't exactly balanced either. Each drives the other a little further over the edge.
This Whiplash international trailer isn't rated "red" by the MPAA, because it comes out of France rather than the US. But it does feature some of the cursing Simmons spits at Teller. This is just the barest hint of how ugly he gets, though. Seriously, if you're a fan of Simmons, especially when he shows his mean side, this movie is an absolute must-see.
Whiplash opens on October 10. Trailer via Ad Vitam.
A pedagogical thriller and an emotional S&M two-hander, Damien Chazelle's Whiplash is brilliantly acted by Miles Teller as an eager jazz drummer at a prestigious New York music academy and J.K. Simmons as the teacher whose method of terrorizing his students is beyond questionable, even when it gets results. Dubbed "Full Metal Jacket at Juilliard" at the Sundance Film Festival, where it won both the Grand Jury Prize and the Audience Award, Chazelle's jazz musical was developed from his short film of the same name, which premiered at Sundance the previous year. The live jazz core that is fused with Justin Hurwitz's ambient score, the blood-on-the-drum-kit battle between student and teacher, and the dazzling filmmaking will keep your pulse rate elevated from beginning to end. A kinesthetic depiction of performance anxiety—you don't need to be a musician to feel it—Whiplash also presents us with a moral issue open to debate.