The Newsroom Season 3 Teaser Trailer: Preparing For "Action"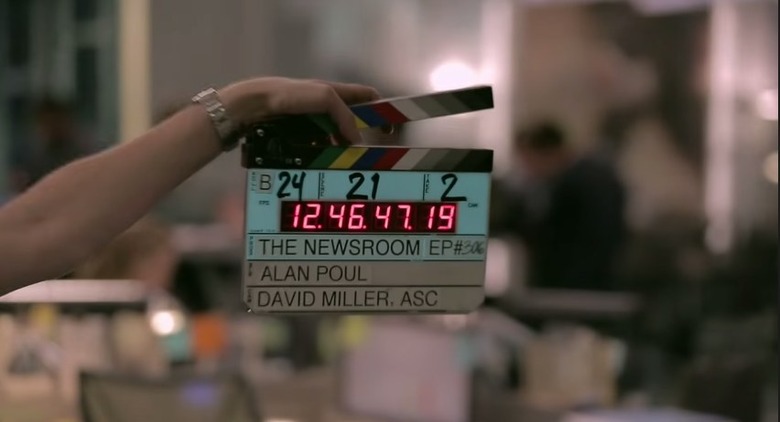 HBO released a second teaser trailer for season 3 of The Newsroom attached to season the series finale of True Blood. The new teaser shows the cast and crew setting up in front of the camera right before "action" is called and the cameras begin to roll. Watch The Newsroom Season 3 teaser trailer now embedded after the jump.
The Newsroom Season 3 Teaser Trailer
Here is the previous Newsroom season 3 teaser trailer (from August 25th 2014) which showed a copying machine printing out Aaron Sorkin's teleplays for the final episodes, including hints of espionage, a court case and much much more:
Returning cast for the series includes Jeff Daniels, Emily Mortimer, Sam Waterston, John Gallagher, Jr., Alison Pill, Thomas Sadoski, Dev Patel and Olivia Munn. The second season of the series followed the ACN news team covering the 2012 Presidential Election pitting President Obama against Republican nominee Mitt Romney. Former The Office showrunner Paul Lieberstein joins Aaron Sorkin and executive producers Alan Poul and Scott Rudin as executive producer for Season 3, which is expected to wrap up the story.
"The Newsroom is classic Aaron Sorkin – smart, riveting and thought-provoking," said HBO Programming president Michael Lombardo. "I'm sure this farewell season will be one to remember."
Olivia Munn has said that the show will end the way creator Aaron Sorkin wants it to:
"I love [Season 3 being the last] because, one, I think it's so much better to do a project where everyone's excited about doing it and the work is really great and you're excited about. Sorkin writes every single episode. I'm sure there's other things that he has to do in his life, that he wants to do, and that takes a lot of time and energy. It's like, let's end when we still are on top and it's feeling doing great and we're doing work that we love. "
The final episodes of The Newsroom premiere in November 2014, airing at 10:00pm on HBO. The first two seasons of the series aired during the summer. Production began for the final episode this spring.