New 'Inherent Vice' Image Gives First Look At Benicio Del Toro As Sauncho Smilax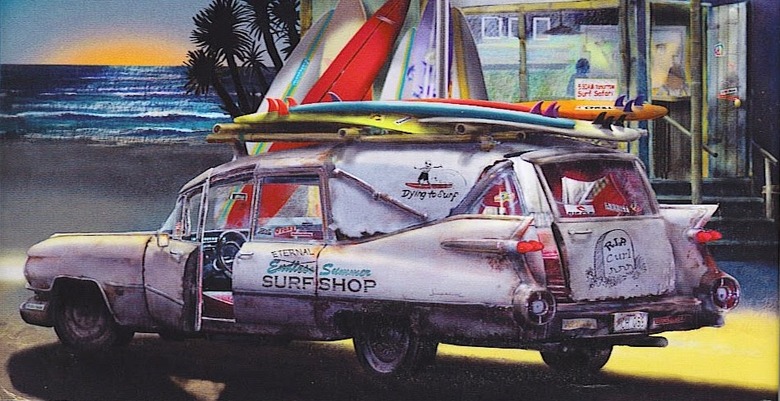 Update From Editor Peter Sciretta: A third image has arrived from Paul Thomas Anderson's Inherent Vice via the October edition of Empire Magazine. The new photo features our first look at Benicio Del Toro as Sauncho Smilax in the film, alongside Josh Brolin and Joaquin Phoenix. Hit the jump to see the new Inherent Vice image, along with the other two photos.
Here is the new Inherent Vice image features Benicio Del Toro, Josh Brolin and Joaquin Phoenix. (via: cigsandredvines)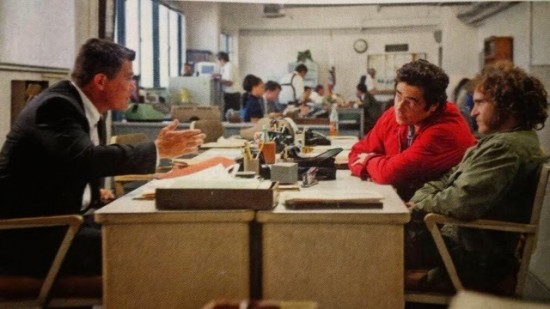 The original story from August 21st follows: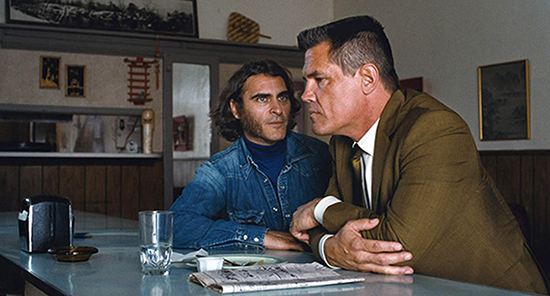 And while it's very much in the vein of the first (above) the shot is a good chance to pass along comments about the movie from someone who's seen it. I'm becoming tremendously excited for this one; just the prospect of having PTA adapt a Thomas Pynchon novel makes me giddy. Of all the things to fancast and dream of seeing, a proper Pynchon film has been at the forefront of my mind for many years. Every couple days now I just savor the fact that we'll see this movie before the end of the year.
Because there's no trailer, however, I've talked to many people who don't seem to have a good handle on what Inherent Vice even is. In short, think of it like The Big Lebowski, only more shambolic and unpredictable, and maybe a bit more grounded from a visual perspective. For some corroboration there, let's go to the source of this new image, which comes with quite a bit of talk about the movie.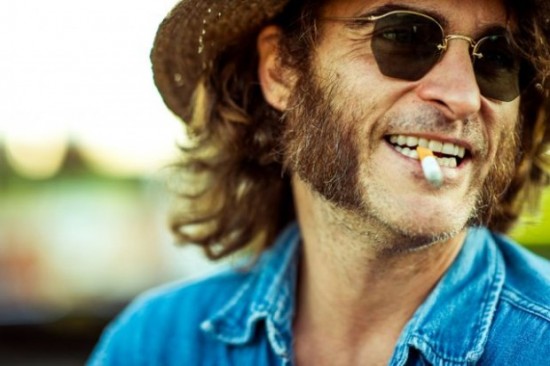 The film premieres in October at the New York Film Festival, and The Film Society at Lincoln Center (via The Film Stage) got this image to run with an interview with NYFF Director and Selection Committee Chair Kent Jones. Among other things, he talked about Inherent Vice. Jones said "Inherent Vice is also [an amazing cinematic ride] in a completely different way. It's like being in a time machine, going back to the time of mutton chops and Neil Young."
He went on to say,
Wild movie. You know, it's the first [Thomas] Pynchon film adaptation, and it really catches his tone. It really catches the antic nature of him: the crazy names of characters, the nutty behavior, and then also the emotional undertone. It has the flavor of Pynchon. It has this Big Lebowski element to one side of it, but the emotional undertone, the desperation,  the paranoia, and the yearning in the film... [Paul Thomas Anderson's] an absolutely amazing filmmaker and it's incredible to see him responding to someone else's creation and then building his own creation out of it. He sort of did that with There Will Be Blood, but not really. It's his own movie, inspired by the novel Oil!
I was born in 1960, but I certainly remember 1971 very well and I gotta say, from the minute the movie started to the minute it ended, I was back—way back—to the point where I was thinking "Gee, my son was born in the '90s." So it's a different kind of relationship that he would have. It's an amazing piece of work, and at this point Joaquin Phoenix and Paul have something so rare between them as an actor and director, and Sam Waterston's daughter, Katherine, is in it, and she's riveting every minute she's on screen. It's quite a film.
After its NYFF fest premiere, Inherent Vice is scheduled to hit US theaters starting on December 12, then goes wide on January 9, 2015.