Sequel Bits: 'Ted 2', 'Dead Snow 2', 'Mission: Impossible 5', 'Bond 24', 'Drumline 2'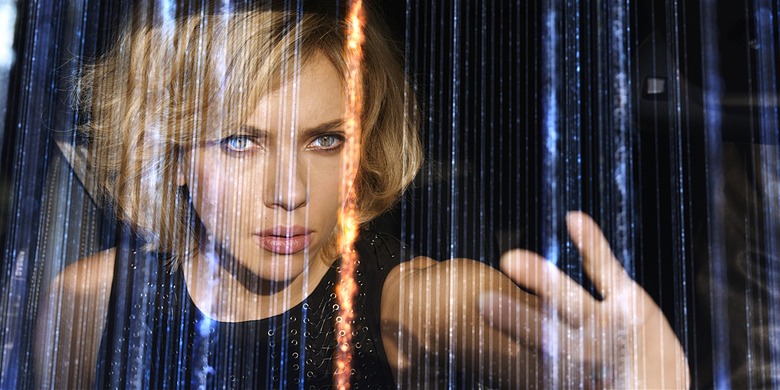 After the jump:
Patrick Warburton will return for Ted 2
Luc Besson says there won't be a Lucy 2
See set photos from Mission: Impossible 5
Frank Miller is already plotting Sin City 3
Take a peek at the Dead Snow 2 poster
Vincent D'Onofrio talks Jurassic World
The Croods 2 and Puss in Boots 2 get moved
Bond 24 will visit a small town in Austria
Watch the trailer for MTV's Drumline 2
Patrick Warburton will be back for more teddy-bear-centric shenanigans. He's set to reprise his role in Ted 2, though sadly it remains unclear whether his onscreen love Ryan Reynolds will join him. Seth MacFarlane is directing the comedy sequel for release on June 26, 2015. Mark Wahlberg and Amanda Seyfried star. [Deadline]
Despite Lucy's massive success at the box office, director Luc Besson just doesn't see a sequel happening. "I don't see how we can do one. It's not made for that," he said. "If I find something good enough, maybe I will, but for now I don't even think about it."
Besson has a point, though Lucy's made so much at this point it's frankly hard to imagine Universal not at least considering a follow-up. I mean, we've heard Liam Neeson scoff at the very notion of a Taken 3 and look where we are now. [THR]
Shooting on Mission: Impossible 5 is finally underway in Vienna, and the first set photos have hit the web. They show Tom Cruise preparing for what looks like a daring action sequence atop the opera house. Flip through the pics here. Mission: Impossible 5 opens December 25, 2015. [Coming Soon]
It took nine years to get from Sin City to Sin City: A Dame to Kill For, but the directors are already plotting their return trip. "It's amazing how far along the plot is," said Frank Miller. Robert Rodriguez added, "We've got it all put together."
Of course, that's assuming the movie does well. "I mean you can talk all you want," conceded Rodriguez. "But until people come out and see the movie, only then will it open up all those possibilities." So if you want a Sin City 3, make sure to check out Sin City: A Dame to Kill For in theaters this weekend. [Moviefone]
The new poster for Dead Snow 2: Red vs. Dead is about as tasteless as you can imagine. There's a swastika drawn in blood, severed body parts, and a truly groanworthy pun. But that's exactly what's great about it, at least if you're the kind of person who's into the idea of a Dead Snow 2 to begin with.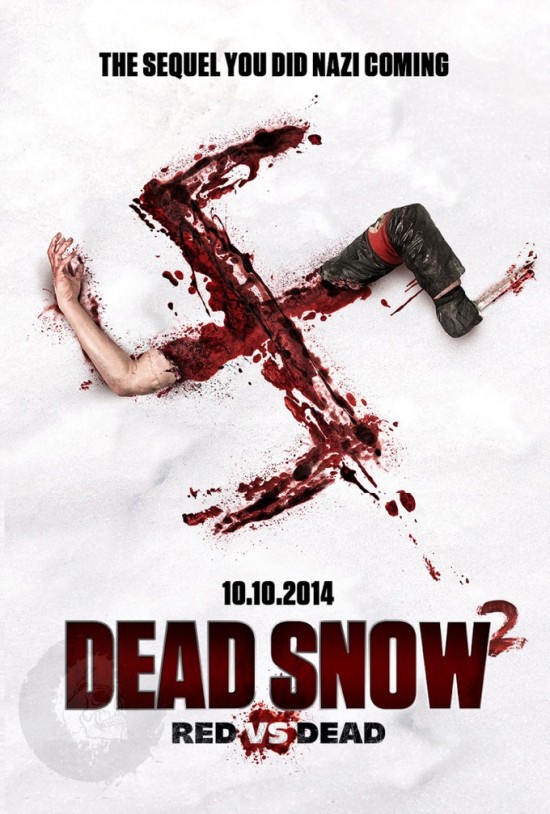 Dead Snow director Tommy Wirkola returns for the sequel, which hits theaters and VOD on October 10. [Bloody Disgusting]
There have been plenty of reports floating around about what the plot of Jurassic World might be, but Vincent D'Onofrio teases that there's still much more we don't know. "You know, I've seen a lot of the stories out there. None of them really have it."
He continued, "You have no idea what's in store. There really are a couple of, I would say more than five or six scenes in that, that are just totally iconic, like amazing." Jurassic World opens June 12, 2015. [Screen Crush]
Two upcoming DreamWorks Animation sequels will be arriving a bit later than previously believed. The Croods 2 has moved from November 3, 2017 to December 22, 2017, while Puss in Boots 2: Nine Lives & 40 Thieves will shift from November 2, 2018 to December 21, 2018. [Coming Soon]
007's globe-trotting adventures will take him to Austria in Bond 24. Specifically, the small mountain town of Obertilliach, population 712. It's unclear whether Obertilliach will be playing itself in the film, or standing in for another location. Shooting will take place in January for about three days. Bond 24 lands November 6, 2015. [MI6]
Twelve years after Drumline, the sequel Drumline: A New Beat is coming to VH1. Alexandra Shipp leads as Dani, a Brooklyn girl who attends Atlanta A&T against her parents' wishes. Her goal is to revitalize the school's once-prominent drumline and become its first female section leader. Nick Cannon, who starred in the original, has a cameo role.
Drumline 2 will premiere this fall. [VH1]