'White Bird In A Blizzard' Trailer: Shailene Woodley In A Suburban Dramatic Thriller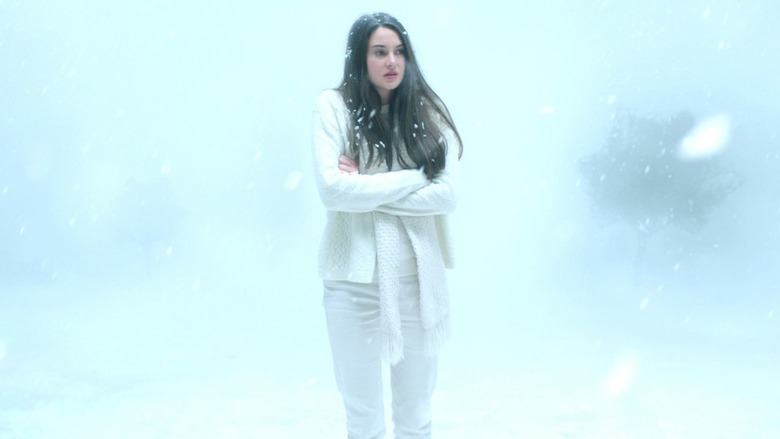 Get it? Its a metaphor!
Magnolia Pictures has released a new trailer for Gregg Araki's White Bird in a Blizzard, which premiered this year at the 2014 Sundance Film Festival.  Shailene Woodley stars in the adaptation of a 1999 novel of the same title by Laura Kasischke. The drama follows as a teenager whose life is thrown into chaos by the mysterious disappearance of her mother (played by Eva Green). A trailer for White Bird in a Blizzard was released days before its Sundance premiere; now a more official trailer is online to promote the September 25th VOD release. (The film will also be available in some theaters on October 24th.) Watch the White Bird in a Blizzard trailer embedded after the jump.
White Bird in a Blizzard Trailer
The film received good but not great reviews at Sundance — I had planned to see it but couldn't make the schedule work. Eva Green's performance was heavily praised as well as the complex coming-of-age story buried underneath unsatisfying thriller/mystery. FilmThreat said that "White Bird in a Blizzard is styled like a Sirkian melodrama in which the bright and shiny surface conceals a bitterly ironic critique of American suburbia."
Also they recently released a clip from the film which showcases the romance in a montage:
The official plot synopsis follows:
Kat Connors is 17 years old when her perfect homemaker mother, Eve, a beautiful, enigmatic, and haunted woman, disappears – just as Kat is discovering and relishing her newfound sexuality. Having lived for so long in a stifled, emotionally repressed household, she barely registers her mother's absence and certainly doesn't blame her doormat of a father, Brock, for the loss. In fact, it's almost a relief. But as time passes, Kat begins to come to grips with how deeply Eve's disappearance has affected her. Returning home on a break from college, she finds herself confronted with the truth about her mother's departure, and her own denial about the events surrounding it...
Here is the official poster: