'Shaun Of The Dead' Reunion Coming To Disney Channel's 'Phineas And Ferb'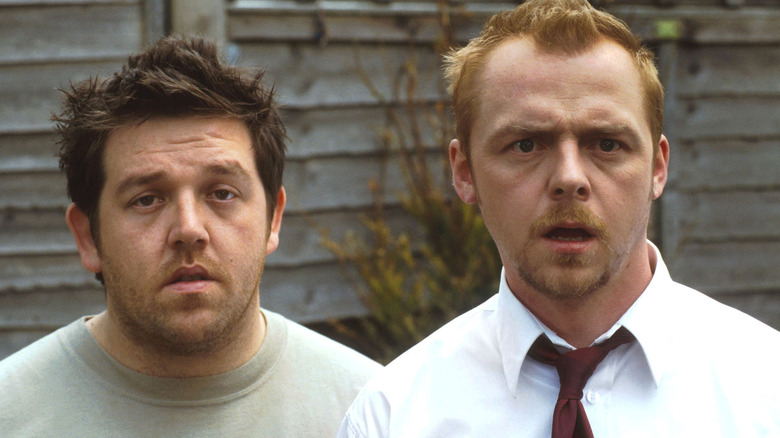 The Cornetto trilogy is done for good, but some of its characters will live on. For a few minutes, anyway. Shaun of the Dead stars Simon Pegg and Nick Frost are set to reprise their roles for an episode of the Disney Channel series Phineas and Ferb.
More details about the Phineas and Ferb Shaun of the Dead reunion after the jump.
Here's news, @nickjfrost and myself will be once again stepping into Shaun and Ed's shoes for the #PhineasAndFerb Halloween special. W00t!!

— Pegg News (@simonpegg) August 18, 2014
This won't be Pegg's first time on the series. He previously voiced C-3PO in the crossover Phineas and Ferb: Star Wars, and has also been heard in the episodes "Imperfect Storm" and "Delivery of Destiny" (U.K. version only for the latter). It will, however, be Frost's first brush with the series.
Shaun (Pegg) and Ed (Frost) will appear in the installment titled "Night of the Living Pharmacist," which will air around Halloween. According to the Phineas and Ferb Wiki, the episode will see the evil Dr. Doofenshmirtz getting hit by a curse that turns everyone he touches into a clone of himself.
Phineas and Ferb and Shaun of the Dead seem like an unlikely combo in that the former is a cartoon aimed primarily at kids too young to have seen the latter. But we live in a world where where Sesame Street parodies grown-up entertainments like Twin Peaks, True Blood and Homeland on the regular, so... sure, why not.
Besides, Phineas and Ferb is a show that loves itself some pop culture — as you may have gathered from the title of the Shaun of the Dead episode. The show also aired a Marvel crossover last year featuring Spider-Man, Iron Man, Thor, the Hulk, and more.
In addition to their Phineas and Ferb-sponsored Shaun of the Dead reunion, frequent co-stars Frost and Pegg will also be heard together in Laika's upcoming feature The Boxtrolls. Beyond that, we've got our fingers crossed that Pegg and Edgar Wright will bring Frost back into the fold for their newly announced mystery project.